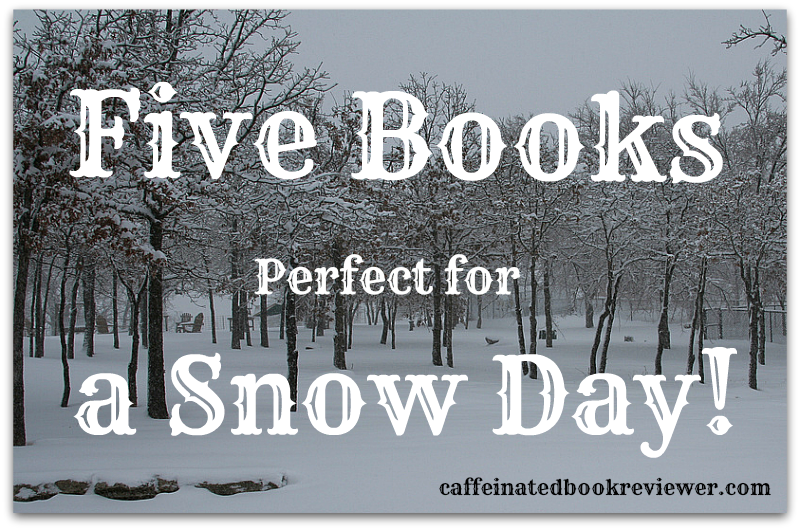 Oh the weather outside is frightful, but the fire is so delightful, Let it Snow, Let it Snow, Let it Snow. Dress in your favorite snuggly outfit, (don't forget those warm socks) and make some coffee, hot cocoa or tea and spend the afternoon curled up with ones of these books…perfect for a snow day.
Illuminae
by Amie Kaufman, Jay Kristoff
Series: The Illuminae Files #1
Source: Publisher
Purchase*: Amazon *affiliate
Rating:
This morning, Kady thought breaking up with Ezra was the hardest thing she'd have to do. This afternoon, her planet was invaded. The year is 2575, and two rival megacorporations are at war over a planet that's little more than an ice-covered speck at the edge of the universe. Too bad nobody thought to warn the people living on it. With enemy fire raining down on them, Kady and Ezra—who are barely even talking to each other—are forced to fight their way onto an evacuating fleet, with an enemy warship in hot pursuit. But their problems are just getting started. A deadly plague has broken out and is mutating, with terrifying results; the fleet's AI, which should be protecting them, may actually be their enemy; and nobody in charge will say what's really going on. As Kady hacks into a tangled web of data to find the truth, it's clear only one person can help her bring it all to light: the ex-boyfriend she swore she'd never speak to again. Told through a fascinating dossier of hacked documents—including emails, schematics, military files, IMs, medical reports, interviews, and more—Illuminae is the first book in a heart-stopping, high-octane trilogy about lives interrupted, the price of truth, and the courage of everyday heroes.
Get your geek on in this suspenseful space tale. Illuminae by Amie Kaufman and Jay Kristoff. This unique tale is addictive and you'll soon lose track of time. See my full review: Illuminae 
Nuts
by Alice Clayton
Series: Hudson Valley #1
Genres: Contemporary Romance
Purchase*: Amazon *affiliate
Rating:

Heat Level:
After losing almost all of her clients in one fell swoop following an accident involving whipped cream, private chef to Hollywood's elite Roxie Callahan gets a call from her flighty mother, saying she's needed home in upstate New York to run the family diner. Once she's back in the Hudson Valley, local organic farmer Leo delivers Roxie a lovely bunch of walnuts, and soon sparks—and clothing—begin to fly. Leo believes that everything worth doing is worth doing slowly…and how! But will Roxie stay upstate, or will the lure of West Coast redemption tempt her back to Tinseltown?
Looking for some giggles, a feel good swoon..then head to the Hudson Valley with Alice Clayton and her humorous, sexy romance – Nuts. Be sure to put together a tray for snacking, as this foodie book will make you hungry. See my full review: Nuts
The Rogue Not Taken
by Sarah MacLean
Series: Scandal and Scoundrel #1
Genres: Historical Romance
Source: Publisher
Purchase*: Amazon *affiliate
Rating:

Heat Level:
LADY SOPHIE'S SOCIETY SPLASHThe youngest of the infamous Talbot sisters scandalized society at the Liverpool Summer Soiree, striking her sister's notoriously philandering husband and landing him backside-first in a goldfish pond. And we thought Sophie was the quiet one… When she finds herself the target of very public aristocratic scorn, Sophie Talbot does what she must to escape the city and its judgment—she flees on the back of a carriage, vowing never to return to London…or to society. But the carriage isn't saving her from ruin. It's filled with it. ROYAL ROGUE'S REIGN OF RAVISHMENT! The Marquess of Eversley was espied descending a rose trellis—escaping an irate Earl and his once-future countess. No lady is safe from Eversley's Engagement Ending Escapades! Kingscote, the Marquess of Eversley, has never met a woman he couldn't charm, a quality that results in a reputation far worse than the truth, a furious summons home, and a long, boring trip to the Scottish border. When King discovers stowaway Sophie, however, the trip becomes anything but boring. WAR? OR MORE? He thinks she's trying to trick him into marriage. She wouldn't have him if he were the last man on earth. But carriages bring close quarters, dark secrets, and unbearable temptation, and suddenly opposites are altogether too attractive…
MacLean always delivers a delicious romp, and The Rogue Not Taken her first book in the Scandals & Scoundrels series was a winner. You can read my thoughts here: The Rogue Not Taken
Sustained
by Emma Chase
Series: The Legal Briefs #2
Genres: Contemporary Romance
Source: Publisher
Purchase*: Amazon *affiliate
Rating:

Heat Level:

A knight in tarnished armor is still a knight. When you're a defense attorney in Washington, DC, you see firsthand how hard life can be, and that sometimes the only way to survive is to be harder. I, Jake Becker, have a reputation for being cold, callous, and intimidating—and that suits me just fine. In fact, it's necessary when I'm breaking down a witness on the stand. Complications don't work for me—I'm a "need-to-know" type of man. If you're my client, tell me the basic facts. If you're my date, stick to what will turn you on. I'm not a therapist or Prince Charming—and I don't pretend to be. Then Chelsea McQuaid and her six orphaned nieces and nephews came along and complicated the ever-loving hell out of my life. Now I'm going to Mommy & Me classes, One Direction concerts, the emergency room, and arguing cases in the principal's office. Chelsea's too sweet, too innocent, and too gorgeous for her own good. She tries to be tough, but she's not. She needs someone to help her, defend her…and the kids. And that — that, I know how to do.
Looking for giggles, and a little romance then Sustained is sure to please. Check out why I loved it: Sustained
Red Rising
by Pierce Brown
Series: Red Rising #1
Genres: Fantasy
Source: Publisher
Purchase*: Amazon *affiliate
Rating:
Darrow is a miner and a Red, a member of the lowest caste in the color-coded society of the future. Like his fellow Reds, he digs all day, believing that he and his people are making the surface of the planet livable for future generations. Darrow has never seen the sky. Yet he spends his life willingly, knowing that his blood and sweat will one day result in a better future for his children. But Darrow and his kind have been betrayed. Soon he discovers that humanity already reached the surface generations ago. Vast cities and sprawling parks spread across the planet. Darrow and Reds like him are nothing more than slaves to a decadent ruling class. Inspired by a longing for justice, and driven by the memory of lost love, Darrow joins a resistance group in order to infiltrate the ruling class and destroy society from within. He will stop at nothing to bring down his enemies... even if it means he has to become one of them to do so.
Travel off planet and meet one of my favorite characters Darrow. Brown delivers from world-building to a plot that will allow you to slip away for hours. This is a book/trilogy I recommend to everyone. You can read my review here: Red Rising