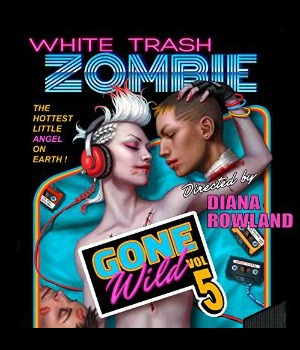 White Trash Zombie Gone Wild
by Diana Rowland
Series: White Trash Zombie #5
Narrator: Allison McLemore
Length: 11 hours and 18 minutes
Genres: Urban Fantasy
Purchase*: Amazon | Audible *affiliate
Rating:

Narration: 4.5 cups
Angel Crawford has buried her loser past and is cruising along in undead high gear—that is, until a murder-by-decapitation sends her on a hazardous detour. As Angel hunts for the killer, she uncovers a scheme that would expose zombies to the public and destroy the life she's built, and she's determined not to rest until she finds out who's behind it. Soon she's neck-deep in lies, redneck intrigue, zombie hunters, and rot-sniffing cadaver dogs. It's up to her to unravel the truth and snuff out the conspiracy before the existence of zombies makes headline news and she's outed as a monster. But Angel hasn't quite escaped the pill-popping ghosts of her past—not with an illicit zombie pharmaceutical at her fingertips. Good thing she's absolutely sure she can handle the drug's unpredictable side effects and still take down the bad guys…or maybe she's only one bad choice away from being dead meat—for real this time. Angel knows a thing or two about kicking ass, but now the ass she needs to kick might be her own
White Trash Zombie Gone Wild by Diana Rowland is the fifth book in the White Trash Zombie series. Hilarious, Intense, and filled with both crazy and heartfelt moments, we once again witness Angel Crawford lose her shit and save the day. I absolutely love listening to this series. Allison McLemore narrates and just brings Angel and the other characters to life.
We are back from New York, and Angel has a problem thanks to a zombie pharmaceutical. She is sneaking some of this drug without the others knowing, and it's causing some problems. Like increasing her need for BRAIIIIINS! However, this doesn't stop her from uncovering a conspiracy to the zombies.
Rowland's descriptions, particularly the action scenes, had me sitting motionless as the story unraveled in 3D. Punches of humor that only Angel could deliver helped keep the darker moments light, and it was one heck of a ride.
Angel is a character you cannot help but root for. She is kick-ass, a little unpolished, and smart as a whip. When she opens her mouth, you never know what will pop out. If she cares about you, then you are one of the lucky ones because she will move heaven and earth to protect you.
Conspiracies, zombie hunters, exposure, and danger continue in White Trash Zombie Gone Wild. Some interesting things happen at the morgue where Angela works, some very interesting things. Saberton Industries are still in the picture, but they took a backseat in this edition.
Allison McLemore is the voice of Angel and the crew. I could not imagine the series without her. If you are looking for a unique Urban Fantasy, I cannot recommend the audio version of White Trash Zombies enough.
Now before you say, Kim, this looks hilarious and action-packed, but I do not do zombies. Rowland has created zombies that live among us, and look like us. They just have to snack on brains occasionally to avoid decomposing. It is like me without coffee. I would totally decompose without it! COFFEE! I NEED MORE COFFFFFEEEEE!!!!
White Trash Zombie Gone Wild delivered all the action, humor and snark I love in this series.
Related Posts