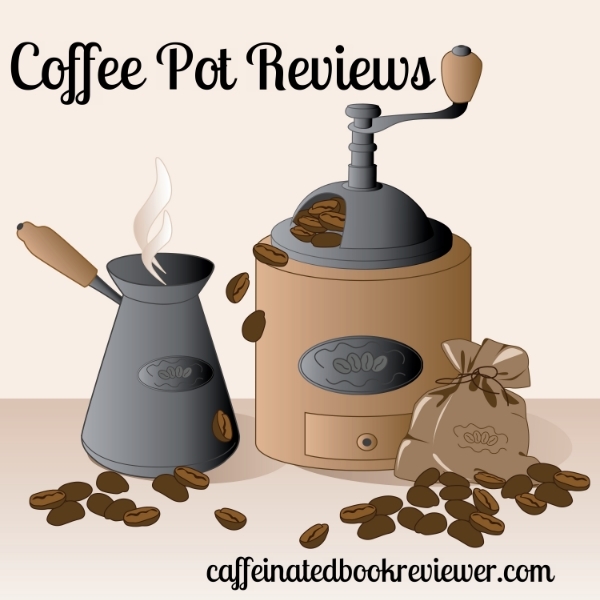 Welcome to Coffee Pot Reviews! These are short and sweet reviews done in the length of time it takes my coffee pot to brew! I have two audios from the urban fantasy series White Trash Zombies by Diana Rowland. This series is delightful on audio….enjoy and stick around for a cup of mocha coffee!
I am so excited to be bringing back my Coffee Pot Reviews. I stopped doing them when I installed UBB and now that the Ultimate Book Blogger Plugin has been upgraded they are back. This is the plugin that creates my review posts, handles my archives and creates all those cool sidebar widgets. If you are on WordPress.org you should check out Ashley @ Nose Graze and the UBB Plugin
Even White Trash Zombies Get the Blues
by Diana Rowland
Series: White Trash Zombie #2
Narrator: Allison McLemore
Length: 8 hrs and 45 mins
Purchase*: Amazon | Audible *affiliate
Rating:

Narration: 4.5 cups
Angel Crawford is finally starting to get used to life as a brain-eating zombie, but her problems are far from over. Her felony record is coming back to haunt her, more zombie hunters are popping up, and she's beginning to wonder if her hunky cop-boyfriend is involved with the zombie mafia. Yeah, that's right—the zombie mafia.Throw in a secret lab and a lot of conspiracy, and Angel's going to need all of her brainpower—and maybe a brain smoothie as well—in order to get through it without falling apart.
The more time I spend with Angel the more I love this southern zombie chic. The girl is bright, doesn't take any shit and her Nancy Drew skills at solving mysteries made me giddy. Even White Trash Zombies Get the Blues mystery thread ties into Ed and the beheaded zombies in book one. This book has it all- a secret lab testing zombies, hunters and boyfriend problems. Rowland added more depth, new characters and more complication for our girl. Rowland creates a tight tale and the more time I spend in this world the happier I am. The flow is wonderful and I am able to slip right into the story. This is an audio series where I look for excuses to listen and find myself listening to "just another chapter" late into the night. Romance, parental involvement, and problems at the job keep our girl busy and I loved every dang moment of it. Allison McLemore truly brings Angel to life from the accent to her subtle snark.
White Trash Zombie Apocalypse
by Diana Rowland
Series: White Trash Zombie #3
Length: 9 hours and 54 minutes
Genres: Urban Fantasy
Purchase*: Amazon | Audible *affiliate
Rating:

Narration: 4.5 cups
Our favorite white trash zombie, Angel Crawford, has enough problems of her own, what with dealing with her alcoholic, deadbeat dad, issues with her not-quite boyfriend, the zombie mafia, industrial espionage and evil corporations. Oh, and it's raining, and won't let up.

But things get even crazier when a zombie movie starts filming in town, and Angel begins to suspect that it's not just the plot of the movie that's rotten. Soon she's fighting her way through mud, blood, bullets and intrigue, even as zombies, both real and fake, prowl the streets.

Angel's been through more than her share of crap, but this time she's in way over her head. She'll need plenty of brainpower to fit all the pieces—and body parts—together in order to save herself, her town, and quite possibly the human race.

In White Trash Zombie Apocalypse, Angel Crawford is knee deep in problems from dealing with her Dad to trying to deciding how she feels about her "not-quite" boyfriend. You think that would be enough to keep our curious little zombie out of trouble, but nope..she is asking questions. Her little Nancy Drew hat is constantly on and she picks up on things.  She soon discovers the secret lab is still open for business. Things get seriously complicated when a zombie movie comes to town and the labs' involvement will have you cringing. I thought Rowland's ingenious idea to weave this thread into the ongoing story arc to be well done and quite clever. Again, I barreled through this listening during every free moment. Rowland weaves snark, suspense, and mystery into this installment. Before I even finished I ordered How the White Trash Zombie Got Her Groove Back the next audio in this series.
Related Posts