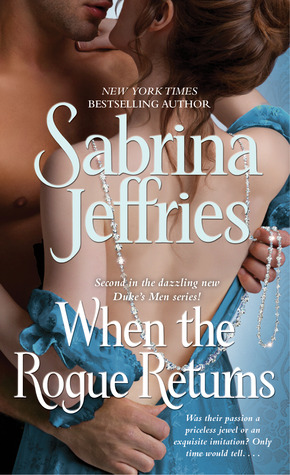 When the Rogue Returns
by Sabrina Jeffries
Series: The Duke's Men #2
Genres: Historical Romance
Source: Publisher
Purchase*: Amazon *affiliate

Victor Cale never imagined that his sweet, shy bride, Isabella, would use her talents for creating exquisite imitation jewels criminally. But there's no denying that her handiwork was used in the theft of the Dutch royal diamonds-- right after Isa disappeared into the night. Ten years later, Victor is sent to Edinburgh to investigate a wealthy baron's mysterious bride-to-be... who turns out to be Isa, masquerading as an alluring widow. No longer the meek girl he once knew, Isa boldly asserts that it was Victor who abandoned her, after he helped steal the royal diamonds! Piecing together the truth of the past reawakens their volatile passions, which burns hotter than ever. But with a decade of secrets between them, Victor and Isa must trust each other to bring the real thieves to justice-- without getting burned themselves.
I adore Sabrina Jeffries brand of historical fiction from her head-strong heroines to her swoon-worthy heroes, and the Duke's Men series has become one of my favorites. When the Rogue Returns is the second book, and it offered up an engaging plot and lovable characters. Mini review: Suspenseful, romantic and captivating I consumed this in a single afternoon.
Victor Cale's newlywed bride, Isabella, disappeared right before the royal Dutch diamonds were discovered stolen and replaced by exquisite imitations. Is it a coincidence that Isabella is skilled at making them? Ten years later he is sent to Edinburgh to investigate a wealthy baron's mysterious bride-to-be by the Duke's Men. The would-be-bride Isa, masquerading as a window turns out to be his estranged wife! Imagine his surprise when she accuses him of abandoned her after he helped steal the gems! The tale that unfolds is sweet, and suspenseful. Jeffries adds twists and turns at every corner keeping well satisfied.
Isa or Isabella is a strong character. When she first married Victor she was meek and naïve but hard times, abandonment and a broken heart have made her toughen up. I adored her and her wit. Victor is such a wonderful hero. Even when his wife abandoned him, a small part refused to believe, and he never sold her out. Jeffries really peeled back their layers and had me connecting with them emotionally. I loved their interaction and watching them piece together the events from the past. The attraction between them was intense, and I so wanted them to find their happy. Other characters added to the tale and gave us villains to loathe. The rest of the Dukes Men make an appearance, and I loved the scenes when they were all together. A young, feisty woman named Lady Zoe, asks the Duke's Men for a favor, and I cannot wait to see how that unfolds.
When the Rogue Returns had such a delightful plot. Jeffries is a master storyteller, and I found myself intrigued from the very first pages. We traveled the continent and the story regarding imitation gems were such a fascinating thread. I would have enjoyed more details about the craft as Jeffries provided enough to make me curious. The Baron's mother was positively ghastly making the tale a colorful one. The interaction, banter and romance of Isa and Victor was delicious. The shared history of the main characters really added to the tale and was brilliantly done. Jeffries creates just enough angst and twists to keep you enthralled. I could hardly believe it when I realized I had consumed this in just a few hours. The Netherland setting was wonderful as Jeffries continues to take us traveling in this series. I adore this blending of mystery and romance and cannot wait for the next book, How the Scoundrel Seduces.
Fans of regency romance, fleshed out characters, and mystery will adore When the Rogue Returns. Book one of the Duke's Men series What the Duke Desires made my top ten favorites in 2013. How the Scoundrel Seduces will release in August 2014.
Related Posts