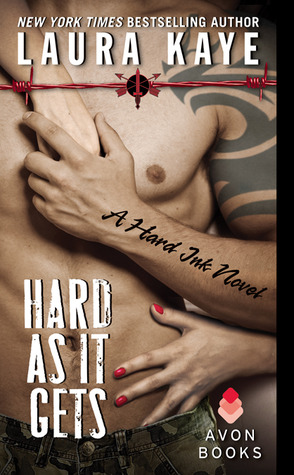 Hard As It Gets
by Laura Kaye
Series: Hard Ink #1
Genres: Romantic Suspense
Source: Publisher
Purchase*: Amazon *affiliate
Rating:
Tall, dark, and lethal... Trouble just walked into Nicholas Rixey's tattoo parlor. Becca Merritt is warm, sexy, wholesome--pure temptation to a very jaded Nick. He's left his military life behind to become co-owner of Hard Ink Tattoo, but Becca is his ex-commander's daughter. Loyalty won't let him turn her away. Lust has plenty to do with it too.
With her brother presumed kidnapped, Becca needs Nick. She just wasn't expecting to want him so much. As their investigation turns into all-out war with an organized crime ring, only Nick can protect her. And only Becca can heal the scars no one else sees. Desire is the easy part. Love is as hard as it gets. Good thing Nick is always up for a challenge...
Hard As It Gets is a romantic suspense, with smokin' hot ex-military men, and tattoos. Need I say may more? This is the first book in the Hard Ink series by Laura Kaye and I devoured it. With a compelling storyline, unique characters and a heated romance this tale offered the perfect read for a cold, windy night by the fire. Mini-review: suspenseful, romantic and engaging.
Former military man, Nicholas Rixey, has a chip on his shoulder. He delivers subpoenas and creates tattoos at the tattoo parlor he co-owns with his brother. When Becca Merritt walks in he smells trouble. When he finds out she is the daughter of his ex-commander he immediately wants to turn his back on her. Despite his anger, his conscience won't leave him be, so he decides to keep an eye on her. Becca's brother has been kidnapped and things are getting complicated. As Becca and Nick hunt for clues they soon realize, they are in the middle of something big and as clues emerge and sparks between them flying. The tale that unfolds was fast-paced, intense and heated.
Becca is one tough little cookie. She is a nurse and definitely the daughter of a military man. She made me giggle, as she gave these ex-military men a set down when needed. She will do whatever it takes to save her brother, and I admired her for it. Nicholas is struggling when we meet him. He was injured on his last tour in Afghanistan. A mission went south leaving him and his surviving comrades framed and forced out of the military. All of it centers on Becca's father making this case complicated. He is attracted to this spit-fire of a woman but struggles with his own demons. Nick calls his former Special Forces, comrades when the situation heats up, and they have to face each other once again. I loved this dynamic team, and Kaye's did a good job of giving each of them a voice. I am secretly hoping they are each fleshed out in their own book. Becca's brother is an interesting character. He is a computer hacker who uncovers some secrets involving crime lords. Nick's brother, co-owner and the brains behind Hard Ink is a hoot. A fur ball adds to the tale, providing humor in an intense situation.
The overall ARC for the series Hard Ink is an intense one, and Kaye did an excellent job of providing the details and setting things up within the pages of Hard As It Gets. From the banter between this motley crew to the sexual tension between Becca and Nick, I found myself fully invested. The romance begins with physical attraction and slowly develops out of respect. Kaye teases us with some intense scenes before bringing on the heat and I found myself eager for those moments. While this reeks of insta-love, romantic suspense is a genre that lends itself to this type of romance. Kaye made it feel real and I was rooting for this couple. Some of the scenes made the pages sizzle and catch fire. Kaye didn't skimp on the details and it was all very memorable.  The dynamics of the special forces team, their banter and the way they accept Becca into the fold made the tale believable. We see growth with Nick as he faced his demons, bonded with his brother and re-established bonds with his team. The tale wrapped up nicely, giving us a clear direction of where the tale is headed next.
Fans of military men, wicked banter, tattoos, and action-packed suspense will enjoy Hard As It Gets. The next book Hard As You Can releases in February of 2014 and features one of the special forces teammates as they continue to uncover the truth. I cannot wait to dive back into this series. Addictive and awesome, this is sure to be a winner.
Related Posts