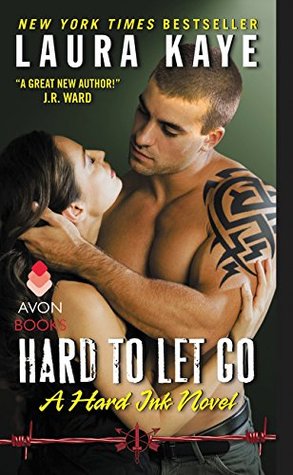 Hard to Let Go
by Laura Kaye
Series: Hard Ink #4
Genres: Romantic Suspense
Source: Publisher
Purchase*: Amazon *affiliate
Rating:

Heat Level:
Beckett Murda hates to dwell on the past. But his investigation into the ambush that killed half his Special Forces team and ended his Army career gives him little choice. Just when his team learns how powerful their enemies are, hard-ass Beckett encounters the biggest complication yet—seductive, feisty Katherine Rixey. A tough, stubborn prosecutor, Kat visits her brothers' Hard Ink Tattoo following a bad break-up—and finds herself staring down the barrel of a stranger's gun. Beckett is hard-bodied and sexy as hell, but he's also the most infuriating man ever. Worse, Kat's brothers are at war with criminals her office is investigating. When Kat joins the fight, she lands straight in Beckett's sights—and his arms. Not to mention their enemies' crosshairs. Now Beckett and Kat must set aside their differences to work together, because the only thing sweeter than justice is finding love and never letting go.
Hard to Let Go is the final full-length novel in the Hark Ink series by Laura Kaye. It was action packed as our team wraps up their investigations; Hard to Let Go delivered everything a fan would want. Beckett Murda goes head to head with feisty Katherine Rixey and the dance was delicious, sweet and filled with heat.
From the previous novels, I knew seeing Kathrine and Beckett's tango was going to fun and intense. These two have bickered since Beckett pulled a gun on her and the banter has been off the charts, so of course, I knew the heat would be too, and Kaye did not disappoint.
We finally learn why Katherine showed up on her brother's doorstep and I give her credit for the way she handled it. The thread was interesting both in the relationship department and in the danger, it represented.
We already know going into this story that Beckett has some issues but learning his backstory had me wanting to snuggle with him. OK! Sheesh, you got me that was not my only reason for wanted to snuggle with Beckett. The man is F-I-N-E fine. I loved seeing him and Kat together; the initial tension and banter gave way to this incredible heat, coupled with some downright tender moments that had me wiping the corner of my eyes.
Of course, the gang is all present working to clear their names and restore their honor. Kaye took us on one hellacious ride as we finally get answers and work our way through some intense action scenes, near deaths and tears before bringing us a conclusion that satisfied and dare I say left room for the possibility of a revisit. It looks like there will be a spin-off series with the bikers who aided them and I am looking forward to beginning them.
While each book in the Hard Ink series features one couple, the overall ARC has me warning you to read them in order. Hard to Let Go was one heck of a conclusion with perhaps my favorite romance of the series.
Stay Caffeinated!
Never miss a post by adding Caffeinated to your Inbox
Your email is not shared and you can unsubscribe at any time.
Related Posts