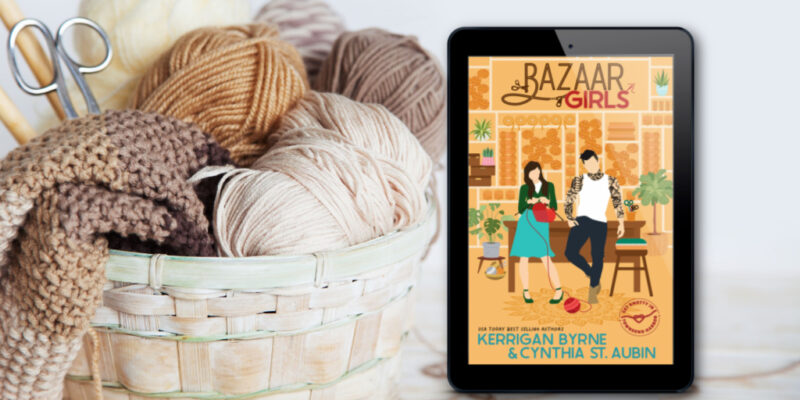 Bazaar Girls by Kerrigan Byrne & Cynthia St. Aubin is the third RomCom novel in the Townsend Harbor series. This quirky little town has been a joy to visit. This time around, we get Gemma McKendrick's story and romance with Gabe Kelly. Both have baggage or issues to overcome and I hope you fall in love with them, too.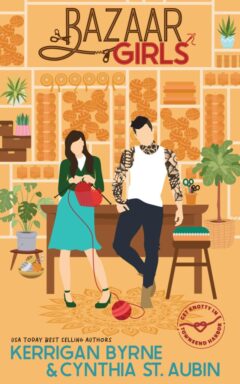 Bazaar Girls
by Kerrigan Byrne, Cynthia St. Aubin
Series: Townsend Harbor #3
Genres: Contemporary Romance
Source: Author
Purchase*: Amazon *affiliate
Rating:

Heat Level:

From USA Today and Amazon Charts bestselling authors Kerrigan Byrne and Cynthia St. Aubin, comes their latest Romcom featuring a quirky cast of characters who represent the hilarious absurdity of life while making you fall head-over-heels in love. This steamy, laugh out loud, opposites-attract small town romance reminds us that we don't have to be perfect to deserve our own happily ever after!

Gemini "Gemma" McKendrick knows just about everything about everybody in Townsend Harbor. When she's not serving on one of the many civic positions or leaping headlong into another hobby, she's hosting the Sunday Stitch 'N Bitch at her yarn and craft shop, Bazaar Girls. With her quirky boutique in big financial trouble, she makes a snap decision to rent out the basement of her cozy craftsman to Townsend Harbor newcomer Gabe Kelly. A man with a past as colorful as his tattoo sleeves, who has become an urban legend since he blew into town. And who better than Gemma, Townsend Harbor's own gossip guru, to answer the rumor mill's most pressing questions? Like whether the silver-tongued mechanic is as good with his hands as he is with a socket wrench.

Gabriel "Gabe" Kelly wasn't born into a family so much as a criminal enterprise. Taught to lift, chop, and rebuild cars since before he could tie his own shoes, he's obliged to pay his debt to society before deserting South Boston for Townsend Harbor, Washington. Surely he can stay out of trouble here, right? He immediately finds the only position an ex-con with prison muscles and neck tattoos could easily find in a town like this, and buys the vintage car mechanic shop from it's retiring owner . Moonlighting as the only tow truck in a thirty-mile radius, he rescues the absent-minded hottie who runs the local yarn shop. But he quickly discovers that a toy-sized car with a dashboard lit up by Christmas isn't the only thing in Gemma McKendrick's life desperately in need of maintenance. Gabe, who is uniquely qualified to diagnose and fix complicated mechanisms, finds his sexy landlord is impossible to figure out. Looks like he'll have to take a peek at her undercarriage to find out what makes her purr before he hits the road again.
Because women of her caliber don't take home guys with his make and model...

But he knows she wants a test drive.
We met both Gemma & Gabe in the previous books and while each story contains its own romance; I encourage you to read the series in order.
Gemma owns the local craft store and hosts Stitch & Bitch. She is also actively involved with the town council and events. Sometimes this takes a toll, particularly because she suffers from neurodivergent issues. I adored Gemma. She is sweet and her intentions are pure despite her family's attitudes towards her ADHD. Her father, who owns the building housing her store, is demanding to see the books. Her sister Lyra scolds Gemma like she is a toddler and don't even get me started on Lyra's fiancé.
We met Gabe Kelly in a previous novel and I was delighted to learn more about this man. Gabe had a rough upbringing in Boston, suffers from PTSD and is looking for redemption. He thinks he has found it here in Townsend where he bought the local auto repair shop. He is attracted to Gemma, but doesn't see himself as worthy.
When Gemma discovers he is sleeping in his garage, she offers to lease her basement. I loved the forced proximity and the romance that develops as these two learn to trust.. Family drama, growth and the past create obstacles as I stayed up into the wee hours hoping for a happily ever after.
I love the town and enjoy these authors. I struggled with a few threads/scenes and inconsistencies. Nothing an editor couldn't correct and the overall story and characters overshadowed them.
If you are looking for a steamy, heartfelt, diverse RomCom set in a seaside town, I think Bazaar Girls would make a lovely fall read.
*KindleUnlimited
Bazaar Girls by Kerrigan Byrne & Cynthia St. Aubin delivered another must read romance in the Townsend Harbor RomCom series. #NewRelease #bookreview
Click To Tweet

Stay Caffeinated!
Never miss a post by adding Caffeinated to your Inbox
Related Posts