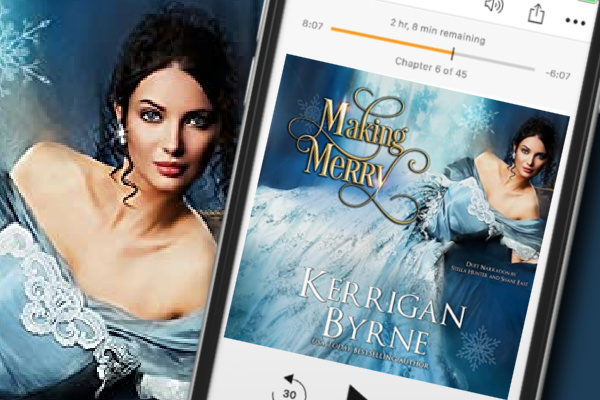 Narrated by Stella Hunter & Shane East, Making Merry by Kerrigan Byrne is a standalone novella in the historical romance series, Goodie Girls & Victorian Rebels. I grabbed this for the Ho-Ho-Ho readathon last year and finally listened during this year's thon. Heat, snark and paranormal elements await you in this delightfully sinful romance.
Making Merry
by Kerrigan Byrne
Series: Goode Girls #1.5, Victorian Rebels #7.5
Narrator: Stella Hunter, Shane East
Length: 2 hours and 42 minutes
Genres: Historical Romance
Source: Kindle Unlimited, Purchase
Purchase*: Amazon | Audible *affiliate
Rating:

Heat Level:

Narration: 1.35x Speed: 4 cups

There's no room at the Inn...

Sprightly Victorian spinster Vanessa Latimer is stranded for the holidays in the Scottish Highlands by a relentless winter blizzard. She takes refuge at a centuries-old inn where the only available room is haunted by the ghost of a warrior who fell at Culloden Moor.

One who refuses to give up his side of the bed.

Johnathan de Lohr awakens to find a siren bathing in the chamber of sorrows that keeps his restless spirit imprisoned. Though he's the ghost, John knows that the captivating woman will be the one to haunt him.

Unless they can figure out a way to set his tormented soul free.

Please note: This novella is also connected to The Victorian Rebels Series. Previously published in the anthology, A Very Highland Christmas
1891 in the Highlands, Vanessa Latimer is stranded for the holidays in the Scottish Highlands. Whilst bathing, she encounters the ghost of Johnathan de Lohr, a warrior. Grab your earbuds, and curl up by the fire for this decedent holiday listen.
If you are looking for a steamy holiday listen, Making Merry is a delightful tale where a tarnished lady meets a 150-year-old ghost while visiting the Scottish Highlands hoping to capture a photo of the Loch Ness. The story isn't overly complicated, but the author brought the characters and their story to life.
If you are wondering how a ghost and lady could have a heated evening or even a happily ever after, I assure you dear listener Byrne has worked her magic. I felt deeply for Vanessa and all that was done to her and was delighted to learn more about Johnathan.
Told in duet style and performed by Stella Hunter and Shane East, listeners are in for a treat. It's the perfect listen by the fire as you wrap holiday presents.
While the story seems to fall into two series, I can assure you it must be a companion series and works as a standalone.
Making Merry by Kerrigan Byrne delivered a little holiday magic. #audiobook #StellaHunter #ShaneEast #audiobookreview
Click To Tweet

Stay Caffeinated!
Never miss a post by adding Caffeinated to your Inbox
Reading this book contributed to these challenges:
Related Posts