I was in the mood for a good thriller and was curious about Catherine and her mother, Ruth Sterling. I needed to know what secrets Ruth was hiding. Gone Tonight by Sarah Pekkanen was a slow-building suspenseful mystery thriller that built until it became unputdownable. Grab an iced coffee and check out my thoughts….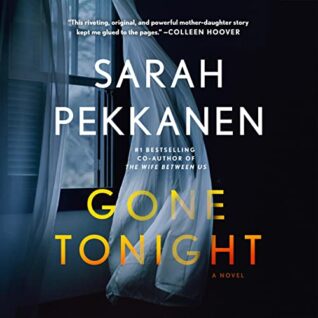 Gone Tonight
by Sarah Pekkanen
Narrator: Kate Mara
Length: 10 hours and 9 minutes
Genres: Thriller
Source: Publisher
Purchase*: Amazon | Audible *affiliate
Rating:

Narration: 4 cups Speed: 1.5x

New from the #1 bestselling co-author of The Golden Couple and The Wife Between Us!

"I'm a huge fan of Sarah Pekkanen's books, and GONE TONIGHT is her best yet." —Colleen Hoover

Catherine Sterling thinks she knows her mother. Ruth Sterling is quiet, hardworking, and lives for her daughter. All her life, it's been just the two of them against the world. But now, Catherine is ready to spread her wings, move from home, and begin a new career. And Ruth Sterling will do anything to prevent that from happening.

Ruth Sterling thinks she knows her daughter. Catherine would never rebel, would never question anything about her mother's past or background. But when Ruth's desperate quest to keep her daughter by her side begins to reveal cracks in Ruth's carefully-constructed world, both mother and daughter begin a dance of deception.
The story that unfolds takes place in both the present and also takes us back to when Ruth was in high school living in a home with an alcoholic mother. Catherine works in the memory ward of a retirement home and lives with her mother, Ruth. Ruth is a single mom and server. She is a dedicated mother and recently has had some struggles with memory loss.
We learn about Ruth's childhood, the mean girls at school, her abusive mother, loving father and the brother she tries desperately to protect. At the same time, we are in the present experiencing Catherine's concerns over her mother and her protectiveness. When things don't add up, she investigates her mother's past and soon opens the door to danger.
I love the buildup, the unreliable narration of Ruth, that slowly revealed all as we read chapters from the past. The story had a great flow as it built towards a harrowing climax.
The story touches on inherent evil with plenty of twists and advances in technology and social media. Fans of thrillers and mother and daughter relationships will want to add this to their bookshelf.
Narrated by Kate Mara, I quickly devoured this suspenseful tale. Kate did a great job of capturing both Catherine and Ruth's personalities & emotions. I highly recommend choosing the audio format.
Narrated by Kate Mara Gone Tonight by Sarah Pekkanen delivered a suspenseful thriller. #audiobook #NewRelease #audiobookreview
Click To Tweet

Stay Caffeinated!
Never miss a post by adding Caffeinated to your Inbox
Reading this book contributed to these challenges:
Related Posts