I was drawn to VenCo because it was recommended for fans of Practical Magic and indeed it has those vibes. Narrated by Michelle St. John, VenCo by Cherie Dimaline tells the story of what happens to Lucky St. James & her cantankerous grandmother when she finds a spoon. Magic, suspense, humor and witches await you….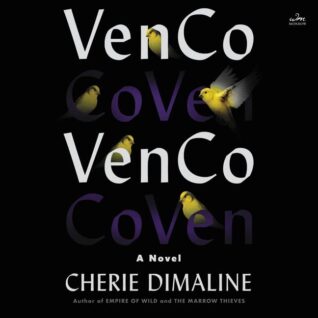 VenCo
by Cherie Dimaline
Narrator: Michelle St. John
Length: 11 hours and 10 minutes
Genres: Fantasy
Source: Publisher
Purchase*: Amazon | Audible *affiliate
Rating:

Narration: 4.5 cups Speed: 1.45x

For fans of The Once and Future Witches and Practical Magic, comes an incredibly imaginative, highly anticipated new novel featuring witches, magic, and a road trip across America—from Cherie Dimaline, the critically acclaimed author of Empire of Wild.

Lucky St. James, a Métis millennial living with her cantankerous but loving grandmother Stella, is barely hanging on when she discovers she will be evicted from their tiny Toronto apartment. Then, one night, something strange and irresistible calls out to Lucky. Burrowing through a wall, she finds a silver spoon etched with a crooked-nosed witch and the word SALEM, humming with otherworldly energy.

Hundreds of miles away in Salem, Myrna Good has been looking for Lucky. Myrna works for VenCo, a front company fueled by vast resources of dark money.

Lucky is familiar with the magic of her indigenous ancestors, but she has no idea that the spoon links her to VenCo's network of witches throughout North America. Generations of witches have been waiting for centuries for the seven spoons to come together, igniting a new era, and restoring women to their rightful power.

But as reckoning approaches, a very powerful adversary is stalking their every move. He's Jay Christos, a roguish and deadly witch-hunter as old as witchcraft itself.

To find the last spoon, Lucky and Stella embark on a rollicking and dangerous road trip to the darkly magical city of New Orleans, where the final showdown will determine whether VenCo will usher in a new beginning…or remain underground forever.
Lucky lives with her grandmother in an apartment in Toronto. For a young woman, she has her hands full. Her grandmother Stella and she are in danger of being evicted in part because her Stella is suffering from dementia. One night something urges Lucky to burrow through a hole in the laundry room and there she discovers a silver spoon etched with a crooked-nosed witch and the word SALEM. The story that unfolds will take the women on a journey, filled with new friendships, danger and magic.
I easily slipped into this story and liked Lucky. Her grandmother Stella made me laugh from her lucid moments to her antics. When Lucky gets a job offer in Salem, the two travel to Massachusetts by car and end up at the home of Myrna Good, owner of VenCo. She provides the two women rooms in her home/business and it's here Lucky meets other women, each in possession of a silver spoon with a crooked witch and the words SALEM.
Through talks of the witch trials, and the dark hunters who destroyed their covens, we learn about the spoons and the seven spoons needed to begin a coven again. While the women prepare for the ceremonies, Lucky and Stella head out in search of other witches who can help them locate the seventh spoon.
The trip was suspenseful, fun and fascinating, but not without danger. Jay Christos, a powerful and deadly hunter, will stop at nothing to thwart their plans. The story builds and ends up taking them to New Orleans. It was an addictive story, from the visions to the witches.
Michelle St. John narrates and does a stellar job of capturing not only Lucky and Stella but Jay the villain. The story worked well in audio format, and I quickly devoured it.
Fans of Practical Magic, Garden Spells and other witchy titles will enjoy this story.

Stay Caffeinated!
Never miss a post by adding Caffeinated to your Inbox
Reading this book contributed to these challenges:
Related Posts