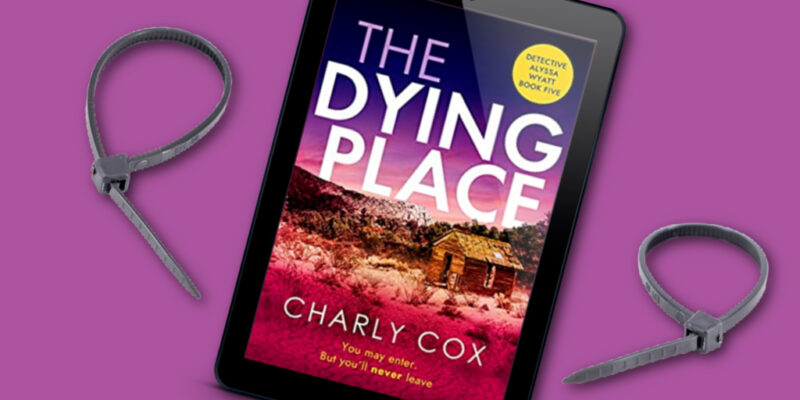 The Dying Place by Charly Cox is the sixth novel in the Detective Alyssa Wyatt series. While each book can work as a standalone, there is mention of previous cases. When a young girl goes missing, it leads Detective Wyatt on a chase to catch a serial killer that got away once before….
The Dying Place
by Charly Cox
Series: Detective Alyssa Wyatt #6
Genres: Crime Fiction
Source: Publisher
Purchase*: Amazon *affiliate
Rating:
When the trunk slammed closed, sealing her fate, a deep cold slithered into the center of Kennedy's bones. All she could do was pray that her attacker would leave enough of her for her family to identify…

Kennedy Farmer, an experienced athlete, never returns after leaving for her usual running route through the dusty, mountains trails of New Mexico.

While the search for Kennedy begins, Detective Alyssa Wyatt and her squad face a terrifying new case when the body of a young woman, Rheagan Pembroke, is discovered in the desert terrain surrounding Albuquerque.

Her wounds horrify even the hardened squad of the Albuquerque P.D. – and the case takes an even darker turn when they discover a polaroid stuffed into the victim's mouth, showing the body of Gunner Galveston, a murder victim from fourteen years ago. Alyssa was a detective on the case, but the culprit was never caught.

As the team are taunted with gruesome packages and blood-curdling phone calls, it becomes evident that a serial killer – whose blood lust is quickly increasing – has been operating in plain sight.

To catch a killer, Alyssa and the squad need to understand the savage desires driving them … before Kennedy becomes another life taken at the hands of a psychopath.

Meet Alyssa Wyatt: detective, mom … and a serial killer's worst nightmare. This incredibly addictive detective series will thrill fans of Karin Slaughter, Chris Carter and Kendra Elliot.
The story hooks you from the beginning as Kennedy Farmer finishes up her evening run on trails in New Mexico. She never makes it home. Meanwhile, Detective Wyatt and her partner Cord visit the home of a family whose teenage daughter has gone missing.
When the young teen's body is discovered with a photo of a murdered body of a victim from a cold case Wyatt worked fourteen years ago, things heat-up. The teen has been savagely beaten with evidence of restraint and torture.
The case that unfolds was suspenseful from the point of view of the victim to the clues that the Albuquerque P.D. gather. Cox did a splendid job of building the case as the team created a suspect list.
I devoured this and lost myself in the case. The twists and revelations were well done. It isn't often I don't work things out, and Cox took me on one heck of a ride.
The tale was grisly, especially when Wyatt's own family catches the killer's eye. The chapters, from their perspective, were chilling.
Each novel works as a standalone but may contain some spoilers from previous cases.
Strong characters and an interesting murder mystery make The Dying Place perfect for fans of crime, mysteries and suspense. I look forward to Detective Wyatt's next case.

Stay Caffeinated!
Never miss a post by adding Caffeinated to your Inbox
Reading this book contributed to these challenges:
Related Posts