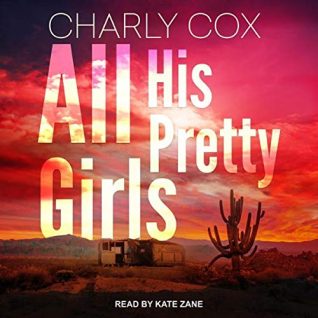 All His Pretty Girls
by Charly Cox
Series: Detective Alyssa Wyatt #1
Narrator: Kate Zane
Length: 11 hours and 6 minutes
Genres: Crime Fiction
Source: Purchase
Purchase*: Amazon | Audible *affiliate
Rating:

Narration: 5 cups Speed: 1.3x

Detective Alyssa Wyatt is hunting a serial killer. She doesn't know that he's hunting her.

A woman is found naked, badly beaten and barely alive in the New Mexico mountains. The shocking discovery plunges Albuquerque Detective Alyssa Wyatt into a case that will test her to the limit.

It appears that Callie McCormick is the latest plaything of a shadowy psychopath that leaves a long shadow on the streets of New Mexico – an individual linked to a string of deaths but leaving no evidence.

But when Alyssa makes a breakthrough that just might reveal the killer, she unknowingly puts herself in the crosshairs of a brutal maniac – one with an old score to settle.

Because the killer knows Alyssa very well, even if she doesn't know him. And he's determined that she'll know his name – even if he has to extract his deadly revenge on her and everything she loves.
Funny story. I track books on a color coded digital calendar and had this title slated for June. When I checked my ARCs/audios and didn't see it, I assumed someone recommended it. Lately, I have added these titles to my schedule. I then bought and devoured the books in this series. Then in late May I received the audiobook. (apparently I had requested it and forgot ?) So I read and listened to this one. Sorry. Not sorry!
Fans of Kendra Elliot and Melinda Leigh will devour All His Pretty Girls by Charly Cox. Whether you read or listen, this is a series you won't want to miss!
Told from multiple perspectives including that of the killer, Cox quickly pulled me in to this heart-pounding, well-crafted thriller. The audiobook narrated by Kate Zane amped up the suspense, terror and characters in this intense tale.
This is the first novel in the Detective Alyssa Wyatt series and Cox's debut. Alyssa Wyatt is a coffee loving, tenacious detective driven by guilt that makes her the perfect detective to hunt down a brutal serial killer.
What starts as an abduction case quickly morphs into the hunt for a serial killer as Detective Wyatt, her partner and their team piece together unsolved murders from the past.
The author delivers this fast-paced, tightly woven tale from the perspectives of Alyssa Wyatt and that of the serial killer. There are a few perspectives from the victims which only amplifies the suspense. Kate Zane gave each character, victim and the killer their own voice. She easily delivered believable male and female voices.
I slipped into the story and was drawn to Alyssa and her partner, Cord Roberts. Alyssa is direct and Cord's more diplomatic and cordial approach meshed well with her personality.
The victims and killer's own story are dark and gritty. Delivered with just enough detail to set your mind skittering. How the author pulled Detective Wyatt into their narrative was twisted, brilliant and grounded with facts, threads and surprises.
The author balances the darkness of the cases with the human side of her detectives, their unit and families allowing us access. Steeped in reality with situations ripped from headlines and parents' worst fears.
I devoured the book in a single evening and immediately downloaded The ToyBox, the next novel in the Detective Alyssa Wyatt series.
The audiobook drew me in even though I had already read the book. I will definitely pick the third one up on audio when it releases.
Look for my review of the newest novel The ToyBox, tomorrow. Fan of Rachel Caine's Stillwater Lake series will enjoy this fast-paced crime suspense thriller.
Fans of Kendra Elliot and Melinda Leigh will devour All His Pretty Girls by Charly Cox. #audiobook #JIAM #DetectiveAlyssaWyatt #KateZane
Click To Tweet
Reading this book contributed to these challenges:
Related Posts