Daisy Jones & The Six by Taylor Jenkins Reid has been on my radar since it first debut and with the new series coming to Prime I decided it was time to listen. Fascinating, addictive and brilliantly produced, I quickly slipped into this full cast narration and lost myself to rock and roll.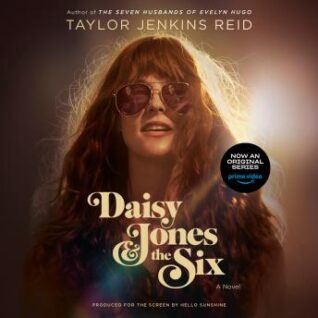 Daisy Jones & The Six
by Taylor Jenkins Reid
Narrator: Robinne Lee, Julia Whelan, Oliver Wyman, Jennifer Beals, Pablo Schreiber, Benjamin Bratt Fred Berman
Length: 9 hours and 3 minutes
Genres: Fiction
Source: Publisher
Purchase*: Amazon | Audible *affiliate
Rating:

Narration: 5 cups Speed: 1.5x

Everyone knows Daisy Jones & The Six, but nobody knows the reason behind their split at the absolute height of their popularity . . . until now.

Daisy is a girl coming of age in L.A. in the late sixties, sneaking into clubs on the Sunset Strip, sleeping with rock stars, and dreaming of singing at the Whisky a Go Go. The sex and drugs are thrilling, but it's the rock and roll she loves most. By the time she's twenty, her voice is getting noticed, and she has the kind of heedless beauty that makes people do crazy things.

Also getting noticed is The Six, a band led by the brooding Billy Dunne. On the eve of their first tour, his girlfriend Camila finds out she's pregnant, and with the pressure of impending fatherhood and fame, Billy goes a little wild on the road.

Daisy and Billy cross paths when a producer realizes that the key to supercharged success is to put the two together. What happens next will become the stuff of legend.

The making of that legend is chronicled in this riveting and unforgettable novel, written as an oral history of one of the biggest bands of the seventies. Taylor Jenkins Reid is a talented writer who takes her work to a new level with Daisy Jones & The Six, brilliantly capturing a place and time in an utterly distinctive voice.
I was a little nervous in the beginning. First, I have never been one to deep dive into bands beyond the music, but recently a few documentaries and friends reviews had me curious about this fictional account. Some say it mirrors Fleetwood Mac, but whatever or whomever, it was a solid look at life on the road and the music scene in the late sixties. The tale is an oral history with interviews regarding a fictional band and what happens when Daisy Jones joins them and they hit the charts. For me, this made listening the perfect format.
Drugs, sex, marriages, the music, interviews with Rolling Stones, and life on and off the road pulled me in. Daisy is this wild, free loving, braless and barefoot groupie turned singer/songwriter and when she is matched up with Billy Dunne, the songwriter and unspoken leader of the Six magic happens.
From beginning to end, I was hooked. The magic on the stage to the scenes in the background pulled me in. The different points of view shed light on the different way each character perceived things. I laughed, wiped tears from my cheeks, and cheered. Reid threw in some twists and the ending was well done.
This was my first time with author Reid, but I am sure it won't be my last. She brought these characters, particularly Dunne and Jones to life. She gave a realistic look at drugs, the music industry, abortion, addiction and life in the early seventies.
While I am sure this was stellar as a book, it was perfection in audio format. Thank you to Penguin for choosing a full cast and such a talented one at that. They nailed it and for me it made these fictional characters real. I would have loved the songs and appreciated the realistic tale that transported me back in time.
Cast List: Daisy Jones, read by Jennifer Beals; Billy Dunne, read by Pablo Schreiber; Graham Dunne, read by Benjamin Bratt; Eddie Loving, read by Fred Berman; Warren Rhodes, read by Ari Fliakos; Karen Karen, read by Judy Greer; Camila Dunne, read by January LaVoy; Simone Jackson, read by Robinne Lee; Narrator/Author, read by Julia Whelan; Jim Blades, read by Jonathan Davis; Rod Reyes, read by Henry Leyva; Artie Snyder, read by Oliver Wyman; Elaine Chang, read by Nancy Wu; Freddie Mendoza, read by P.J. Ochlan; Nick Harris, read by Arthur Bishop; Jonah Berg, read by Holter Graham; Greg McGuinness, read by Brendan Wayne; Pete Loving, read by Pete Larkin; Wyatt Stone, read by Alex Jenkins Reid; Hank Allen, read by Robert Petkoff; Opal Cunningham, read by Sara Arrington.

Stay Caffeinated!
Never miss a post by adding Caffeinated to your Inbox
Reading this book contributed to these challenges:
Related Posts