Narrated by Whitney Johnson, Where the Drowned Girls Go by Seanan McGuire is the seventh novella in the Wayward Children series. Where do children go when Eleanor West's Home for Wayward Children can't save them? Why they go to Whitethorn Institute. Travel with Cora as she attends Whitehorn.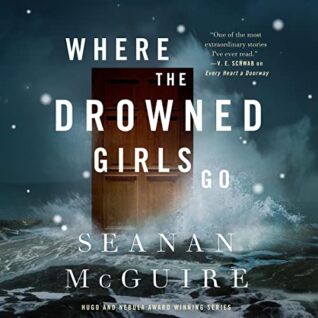 Where the Drowned Girls
by Seanan McGuire
Series: Wayward Children #7
Narrator: Whitney Johnson
Length: 4 hours and 31 minutes
Genres: Fantasy
Source: Purchase
Purchase*: Amazon | Audible *affiliate
Rating:

Narration: 5 cups Speed: 1.3x

Welcome to the Whitethorn Institute. The first step is always admitting you need help, and you've already taken that step by requesting a transfer into our company.

There is another school for children who fall through doors and fall back out again.
It isn't as friendly as Eleanor West's Home for Wayward Children.
And it isn't as safe.

When Eleanor West decided to open her school, her sanctuary, her Home for Wayward Children, she knew from the beginning that there would be children she couldn't save; when Cora decides she needs a different direction, a different fate, a different prophecy, Miss West reluctantly agrees to transfer her to the other school, where things are run very differently by Whitethorn, the Headmaster.

She will soon discover that not all doors are welcoming...
It's easy to see why Where the Drowned Girls Go was the 2022 Hugo Award Winner for Best Series. Once again, Seanan McGuire delights us with another atmospheric tale about children and doors.
Cora Miller, whom we met in Beneath a Sugar Sky and whose story continues in Come Tumbling Down, is struggling. Despite protests, she is transferred to the Whitehorn Institute. It isn't as welcoming as Eleanor's school, in fact, it is the opposite in every way. Cora wants nothing to do with doors, she wants to forget and believes the Institute will help.
Many will relate to Cora. Indeed, if you didn't quite fit in as a child or fell outside the norm, you will sympathize with her. This wasn't an easy listen as we explore diversity, fear, acceptance and the struggles to find our place. Cora is bullied and teased. Here, the girls are suppressed and forced to lie to themselves.
We witness Cora once again pick up the mantle of hero. She also learns she cannot do it alone. While not my favorite of the story, I will admit I couldn't stop listening. It tied to the series, reinforcing the messages of finding one's self and of working together.
Once again, I am left impressed by McGuire's storytelling ability and the worlds she creates.
Whitney Johnson does an excellent job of bringing voice to Cora and setting the tone for the story. I've enjoyed listening to the series and recommend them in audio format.
Where the Drowned Girls Go by Seanan McGuire takes us to the other institute for children #WaywardChildren #Audiobook #Fantasy
Click To Tweet

Stay Caffeinated!
Never miss a post by adding Caffeinated to your Inbox
Reading this book contributed to these challenges:
Related Posts