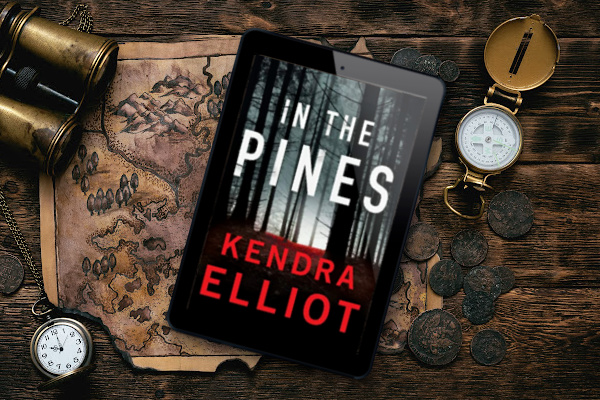 In the Pines by Kendra Elliot is the third book in the Columbia River series, and the seventh Mercy Kilpatrick mystery novel. Suspense, family and a murder mystery await you as treasure hunters invade their small-town.
In the Pines
by Kendra Elliot
Series: Columbia River #3, Mercy Kilpatrick #7
Source: Publisher
Purchase*: Amazon | Audible *affiliate
Rating:
Clues to a hidden treasure. Clues to a family secret. Both lead to murder in a twisting novel of suspense by Amazon Charts and Wall Street Journal bestselling author Kendra Elliot.

A national treasure hunt with a $2 million prize has driven obsessed fortune seekers to overrun the small town of Eagle's Nest, Oregon. The hunt's cryptic clues and the lure of wealth have exposed the desperate side of human greed: theft, fights, trespassing—and even the motive to kill. Police chief Truman Daly craves peace in his town but has a murder on his hands instead. Now the big prize isn't the only thing hiding in the pines. So is a killer.

When a young boy walks into the local café and claims his mother and baby sister have been missing for weeks, FBI special agent Mercy Kilpatrick investigates and exposes a disturbing twist in his story. Deep family secrets and lies that started sixty years ago have burst into the present, bringing with them deadly consequences.

Mercy's and Truman's investigations lead down a path of murder, revenge, and buried secrets to uncover two intertwined mysteries as dark as an Oregon forest.
FBI Agent Mercy Kilpatrick, her husband Chief Truman Daly and Detective Evan Bolton have their hands full as the town of Eagle's Nest, Oregon, is overrun with treasure hunters.
I was so excited to see Mercy and Truman again. I confess I love this series and Elliot brought us all kinds of excitement from wee one's in danger to murder.
A national treasure hunt for two million dollars has Chief Daly and his team busy. Businesses are overrun and tempers are high. He's fielding calls from squatters on land to shots fired. When a young boy comes into the cafe' claiming his baby sister and mother are missing, Daly calls in Mercy. The family is living off the grid and Mercy soon makes a startling discovery.
The tale that unfolds offered plenty of twists and the suspense increased when threats are made and a body is found. It was great to spend time with Mercy, Truman and even their children. We got to spend time with Detective Bolton as he deals with a murder-mystery and family issues.
Elliot's stories are well-paced, and the mysteries proved interesting. She delivered plenty of suspense as Mercy found herself in danger. I don't think I will ever grow tired of this series.
Fans of FBI romantic suspense, murder-mysteries, small-towns and preppers will love these stories from the realistic characters to the rural setting.
In the Pines by Kendra Elliot, delivered an intriguing mystery and allowed us to spend time with Mercy & Truman. #ColumbiaRiver #MercyKilpatrick #NewRelease
Click To Tweet

Stay Caffeinated!
Never miss a post by adding Caffeinated to your Inbox
Related Posts