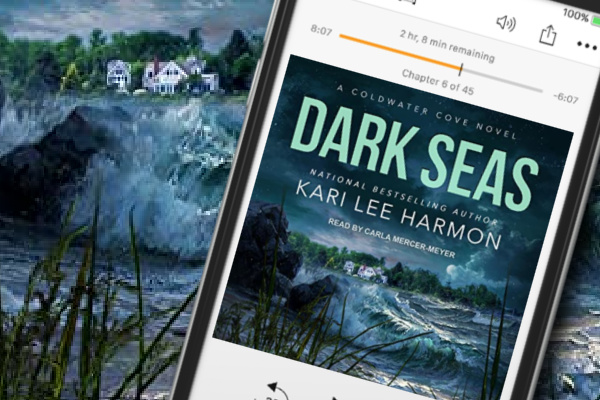 Narrated by Carla Mercer-Meyer, Dark Seas by Kari Lee Harmon, the first in the Coldwater Cove mystery series, takes listeners to Coldwater Cove, Maine as Stacy Buchanan returns to take care of her aging father and make peace with her mother's death. Suspense and a smidge of romance await you….
Dark Seas
by Kari Lee Harmon
Series: Coldwater Cove #1
Narrator: Carla Mercer-Meyer
Length: 6 hours and 17 minutes
Genres: Mystery
Source: Publisher
Purchase*: Amazon | Audible *affiliate
Rating:

Narration: 4 cups Speed: 1.3x

An unsettled past . . .

Ten years ago, Stacy Buchanan's mother—the mayor—was found dead in Coldwater Cove, Maine. Her death was ruled an accident, but Stacy never got over the feeling that something was off. Her father's health takes a turn for the worse, and he can no longer live alone. A champion swimmer turned journalist, she is forced to pass up a dream job at ESPN to return to the cove.

Former marine turned FBI agent Trent West has thought of nothing for the past ten years except his secret mission. Undercover as Trent Clark—a delivery man for Worldwide Parcel Service—he moves to the cove and befriends the Buchanans.

After Stacy finds a key piece of evidence that proves her mother's death was no accident, the case gets reopened. She can't move on with her life or find closure until justice is served, but a desperate killer is still out there and will do anything to keep the truth buried in the past.

The only person she trusts is Trent, who keeps turning up whenever she needs him. He offers to help her find the killer, but she discovers he has a few secrets of his own. Secrets that link him to her mother's case, making Stacy doubt everything she thought she knew and threaten her chance at finally being happy.
Ex-Marine Trent Clark is a driver for a parcel service in Coldwater Cove with a secret. When Stacy Buchanan, a champion swimmer turned journalist, returns, he goes on full alert. Trent is really Trent West, an undercover FBI agent working a cold case. He moved to Coldwater Cove and befriended Mack Buchanan.
Ten years ago, Stacy's mother, Mayor Buchanan, was found dead in Coldwater Cove. Her death was ruled an accident, something that never sat well with Stacy. When Stacy finds a key piece of evidence, the case gets reopened, but someone doesn't want that to happen and will stop at nothing to keep the past a secret.
The story that unfolds offered plenty of suspense and twists as Stacy finds herself in danger. Luckily, Trent comes to her aid. As his case and hers merge, it drives them closer, and the danger escalates.
I thought the tale was well done. It teeters between mystery and romantic suspense. The author did a great job of laying out the clues and weaving the mystery threads together. Trent and Stacy were relatable. I enjoyed their interactions and growing attraction. Their relationship had some hiccups brought on by secrets and conflicts. Those looking for heavier romantic elements may be disappointed, as it's served on the side.
The small-town of Coldwater Cove and Mack, Stacy's father, added to the mystery and enhanced the story. Fans of solid mysteries with a dash of romance will enjoy this first in series.
Carla Mercer-Meyer narrates Dark Seas and did a great job with Stacy's perspective. She also gave voice to Trent, Mack and secondary characters. Her tone and pacing made listening a pleasure.
.

Stay Caffeinated!
Never miss a post by adding Caffeinated to your Inbox
Reading this book contributed to these challenges:
Related Posts