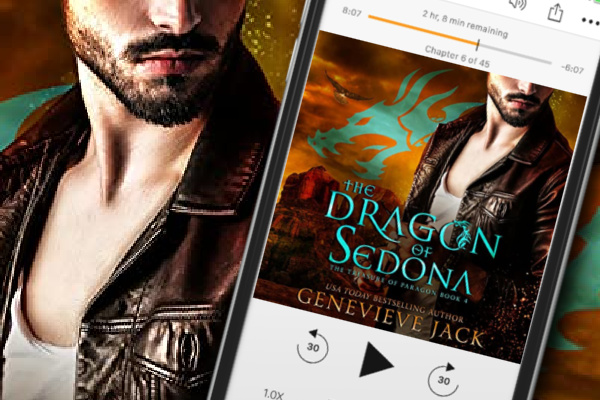 The Dragon of Sedona by Genevieve Jack is the fourth audiobook in the Treasure of Paragon series. We meet another sibling and enjoy their romance while the overall story arc continues bringing danger, suspense and updates on the other couples. If you love dragons, you'll want to grab this series on audio!
The Dragon of Sedona
by Genevieve Jack
Series: The Treasure of Paragon #4
Narrator: David Brenin
Genres: Paranormal Romance
Source: Purchase
Purchase*: Amazon | Audible *affiliate
Rating:

Heat Level:


Narration: 4.5 cups Speed: 1.4x

Darkness he can't forget. Light he's afraid to remember. Magic that could change everything.

Exiled dragon prince Alexander never recovered from the murder of his mate Maiara, an indigenous healer he met over three centuries ago. Every waking breath is a painful reminder of what he lost, his grief compounded by the constant presence of her immortal red-tailed hawk, bound to him since her death.

When three of his siblings arrive with news that he may be in grave danger, he secretly welcomes the possibility of a violent end to his torment. But as the four reminisce about how they came to know Maiara in the New World, they begin to see her life and death from a new perspective.

For the first time, the source of Maiara's power is revealed and inspires a new but precarious hope. There may be a way for Alexander to be with her again, but his second chance for a happily ever after is risky at best, and at worst, could cost him the only thing he has left.
Narrated by David Brenin shares Maiara and Alexander's romance. The story begins life times ago with a prologue. Maiara and her father are being chased by a wendigo. Then bounces around from 1699 to 2018. When we meet Alexander, he is a recluse artist who still mourns his mate and wants to end his life. His only companion is his mate's bird.
I loved their story from her roots to how they met and were separated. I immediately felt Alexander's pain as the author tugged at my heartstrings.
When the siblings arrive on the scene, they are unwelcome, and we get some history there too. Alexander is crushed to learn his siblings are mated. He reluctantly listens, but it is Gabriel's mate, the witch who reaches him when she thinks she can bring Maiara back.
The story is told through various points of view and multiple timelines. We learn more about how the siblings arrived on Earth and established themselves. It was fascinating and my heart bleed for Alexander and Maiara. Their romance was not without struggles and I rooted for them.
As trouble finds them, the threats continue. The storyline is tight and well executed. Each story brings depth and a deeper understanding of Paragon and this family. We get updates and interact with the other couples, making it essential that you listen to this series in the order of its release. Matings and the overall story arc will be spoiled otherwise.
All the audiobooks have different narrators and this story is narrated by David Brenin. He captured Alexander and his emotions wonderfully. He did an equally good job with the other characters, both male and female. His tone, pacing and inflections made listening a pleasure.
Fans of dragons, siblings and fated mates will want to devour this series.
The Dragon of Sedona by Genevieve Jack developed the series arc and tugged at my heartstrings with the romance. #Dragons #TreasureOfParagon #audiobook #audiobookreview #DavidBrenin
Click To Tweet

Stay Caffeinated!
Never miss a post by adding Caffeinated to your Inbox
Reading this book contributed to these challenges:
Related Posts