Readers will want to turn the lights up as they enjoy this chilling cold case with ghosts, and family secrets. A young crime blogger investigates a serial killer in The Book of Cold Cases by Simone St. James.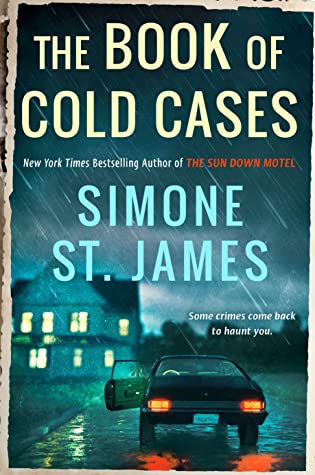 The Book of Cold Cases
by Simone St. James
Source: Publisher
Purchase*: Amazon | Audible *affiliate
Rating:
A true crime blogger gets more than she bargained for while interviewing the woman acquitted of two cold case slayings in this chilling new novel from the New York Times bestselling author of The Sun Down Motel.

In 1977, Claire Lake, Oregon, was shaken by the Lady Killer Murders: Two men, seemingly randomly, were murdered with the same gun, with strange notes left behind. Beth Greer was the perfect suspect--a rich, eccentric twenty-three-year-old woman, seen fleeing one of the crimes. But she was acquitted, and she retreated to the isolation of her mansion.

Oregon, 2017. Shea Collins is a receptionist, but by night, she runs a true crime website, the Book of Cold Cases--a passion fueled by the attempted abduction she escaped as a child. When she meets Beth by chance, Shea asks her for an interview. To Shea's surprise, Beth says yes.

They meet regularly at Beth's mansion, though Shea is never comfortable there. Items move when she's not looking, and she could swear she's seen a girl outside the window. The allure of learning the truth about the case from the smart, charming Beth is too much to resist, but even as they grow closer, Shea senses something isn't right. Is she making friends with a manipulative murderer, or are there other dangers lurking in the darkness of the Greer house?
In this atmospheric tale, James takes us to Claire Lake, Oregon and introduces us to Shea Collins. Shea is recently divorced and works in a doctor's office during the day and works on her true passion at night. She runs a true crime website, the Book of Cold Cases.
"AM I BITTER, OR AM I SWEET? LADIES CAN BE EITHER."
Claire Lake has a rich history. Shea was once the victim of an attempted abduction, and in 1977, the town was shaken by the Lady Killer Murders until twenty-three-year-old Beth Greer was arrested. Beth was acquitted and now lives in isolation in the Greer mansion. Some think she got away with murder, others think the actual killer got away…
As luck would have it, Beth comes into the doctor's office and Shea convinces her to be interviewed. The tale that unfolds was chilling and takes us back in time.
The alternating past and present helped build the suspense, as did the central setting for both periods; the ominous Greer mansion set high above the town. From ghostly images to moving objects, the house was a character all on its own.
James is a clever writer whose pacing and easy flowing descriptions pulled me in. Did Beth do it, or is something more sinister out there? The interviews at the mansion offered some disturbing elements from cold spots to moving objects. The author is very effective with her imagery and I got shivers. She allows the reader to experience the characters' fight-or-flight reactions as the suspense built. It all felt very surreal.
I easily connected and even sympathize with Shea and Beth. Interviews with witnesses and the original detective on the case, along with Beth's lawyer, added depth. They helped fill in pieces as we unraveled the past and its hold on the present.
We witness character growth in Shea and oddly enough Beth helps her from relationships to making connections and facing her demons. Shea is tenacious with her cold cases, but struggles with commitment and fear. She carries baggage that limits her daily life. Secondary characters added to the tale and despite being a mystery, the story that unfolds holds family secrets and drama. It also shedding light on crime, the press and small-town antics.
Atmospheric and suspenseful The Book of Cold Cases delivered from the paranormal woo-woo that will raise the hair on the back of your neck to the events that actually occurred in 1977. Simone St. James is an auto-buy for this reader and I look forward to her next novel.
The Book of Cold Cases by Simone St. James delivered an atmospheric whodunit with family drama, a tenacious cold case blogger and a touch of paranormal activity #NewRelease #MysteryThriller
Click To Tweet

Stay Caffeinated!
Never miss a post by adding Caffeinated to your Inbox
Related Posts