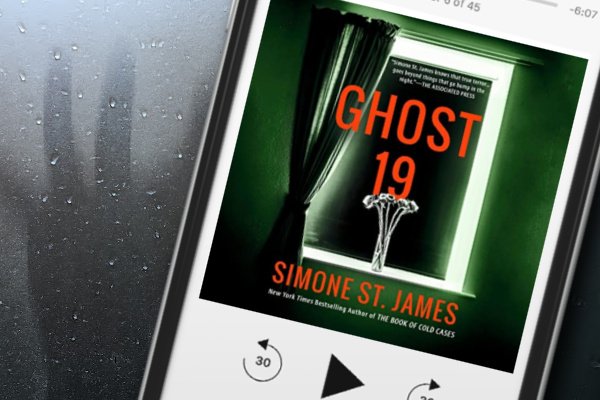 I have enjoyed all of Simone St. James' creepy mystery thrillers and was excited to try her novella, Ghost 19 narrated by Brittany Pressley. This is the perfect listen at just under three hours to get your spook on.
Ghost 19
by Simone St. James
Narrator: Brittany Pressley
Length: 2 hours and 50 minutes
Genres: Horror
Source: Publisher
Purchase*: Amazon | Audible *affiliate
Rating:

Narration: 5 cups Speed: 1.3x

A woman moves to a town where she becomes obsessed with watching the lives of her neighbors while stuck in a house that refuses to let her leave in this first ever short story from the New York Times bestselling author of The Book of Cold Cases.

Is there something wrong with Ginette Cox? It's what everyone seems to think. When a doctor suggests that what she might need is less excitement, she packs up and moves from New York City to a house in suburban NY: 19 Howard Ave.

The town offers Ginette little in the way of entertainment in 1959, but at least she has interesting neighbors. Whether it's the little girl with her doll or the couple and their mother-in-law, Ginette watches them from her window and makes up names and stories for them.

But it's not all peaceful in suburbia. Ginette finds it hard to sleep in her new house. There are strange and scary noises coming from the basement, and she is trapped, either by a ghost or her own madness.

But when Ginette starts to think a murder has taken place and a mysterious man starts making terrifying appearances outside her window, it's clear she must deal with whatever isn't allowing her to escape this house…
Ginette Cox has been advised by the doctor's that she needs a little less excitement. After a hospital stay, she leaves the glamorous, hectic life of New York City and rents a house in suburban NY: 19 Howard Ave.
Since she is banned from watching TV, she occupies her time by watching the neighbors. She invents names for them and stories. At night, though, things go terribly wrong. Something is in the basement and wants out. A man dressed oddly is staring into her windows and she witnesses a murder.
Ginette's fear felt real and her mannerisms and behavior only added to this atmospheric tale. Fans of Alfrick Hitchcock will love the vibe and build up.
The tale that unfolds has all the chills and thrills of a perfect ghost story and Brittany Pressley does a stellar job with our unreliable narrator. This was my favorite listen for the Fraterfest Readathon and it gave me chills. Lots of twists and very atmospheric. St. James has pushed her way to the top of my must read/listen list and I was impressed by this novella.
Grab your flashlight, your partner, and listen to this creeptastic tale. Maybe leave the bathroom light on. No gore, just creepy, spooky events that will raise the hair on the back of your neck.
At just under 3 hours Ghost 19 by Simone St. James narrated by Brittany Pressley is the PERFECT Spooky Fall listen #audiobook @TantorAudio #Thriller #Ghosts
Click To Tweet

Stay Caffeinated!
Never miss a post by adding Caffeinated to your Inbox
Reading this book contributed to these challenges:
Related Posts