The cute cover, STEM nerds, and fake relationship trope with a twist had me grabbing The Love Hypothesis by Ali Hazelwood. I am glad that I did because I loved this adorkable romance.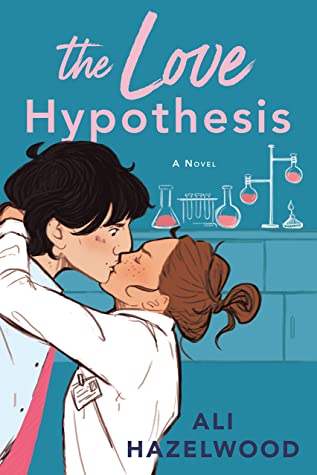 The Love Hypothesis
by Ali Hazelwood
Genres: Contemporary Romance
Source: Publisher
Purchase*: Amazon | Audible *affiliate
Rating:

Heat Level:
When a fake relationship between scientists meets the irresistible force of attraction, it throws one woman's carefully calculated theories on love into chaos.

As a third-year Ph.D. candidate, Olive Smith doesn't believe in lasting romantic relationships--but her best friend does, and that's what got her into this situation. Convincing Anh that Olive is dating and well on her way to a happily ever after was always going to take more than hand-wavy Jedi mind tricks: Scientists require proof. So, like any self-respecting biologist, Olive panics and kisses the first man she sees.

That man is none other than Adam Carlsen, a young hotshot professor--and well-known ass. Which is why Olive is positively floored when Stanford's reigning lab tyrant agrees to keep her charade a secret and be her fake boyfriend. But when a big science conference goes haywire, putting Olive's career on the Bunsen burner, Adam surprises her again with his unyielding support and even more unyielding...six-pack abs.

Suddenly their little experiment feels dangerously close to combustion. And Olive discovers that the only thing more complicated than a hypothesis on love is putting her own heart under the microscope.
I slipped into this story easily and connected with Olive Smith, a third year Ph.D. candidate. Her first meet with Professor Adam Carlsen was adorkable and set the tone for the rest of the story.
Olive is a sweetheart and her friends are her world, so when her friend Anh is positively smitten with Olive's ex but wants to honor the girl code no matter how much Olive protests she doesn't care. Olive does what any sane, socially awkward science gal would do…. she kisses Professor Carlsen in the hall in front of Anh. I was grinning from ear to ear at Olive's predicament and Adam's equally awkward response and the reason will make you swoon.
Adam and Olive are both brilliant scientist and life in the lab is where they feel most at home, so seeing them commit to this fake relationship and tagging along for social interaction was delightful.
From STEM nerds to career goals, I was pulled into the Olive's world and the science section of Stanford. Ali Hazelwood delivered just what I was hoping for and more. The romance was wonderful, with a slow buildup and the awkwardness of realizing you want more than a fake relationship.
The story had depth and touched on difficult topics from fast acting cancers to sexual harassment. We had a diverse group of characters with LGBTQ and BIPOC. The characters felt authentic and weren't cliche regarding their diversity. Hazelwood developed her secondary characters and made them memorable.
I loved the subtle romance from their talks at the coffee shop to tentative kisses. Neither Olive nor Adam is socially confident, but I loved how Adam supported Olive in her pursuits, even if it meant he could lose her. We get some heat between the sheet. It was beautifully done but the morning after was uncomfortable since communication isn't their strong suit. Why can't they just confess their feelings? Thankfully, a little character growth and help from friends and a power-play kept the drama low and grounded.
I cannot wait to see what Ali Hazelwood brings us next. The Love Hypothesis is the feel good, curl your toes, adorkable romance you need to read this fall.
The Love Hypothesis by Ali Hazelwood delivered a feel good, curl your toes, adorkable romance you need to read this fall. #STEM #Romance #Diverse #MustRead #SwoonWorthy
Click To Tweet

Stay Caffeinated!
Never miss a post by adding Caffeinated to your Inbox
Related Posts