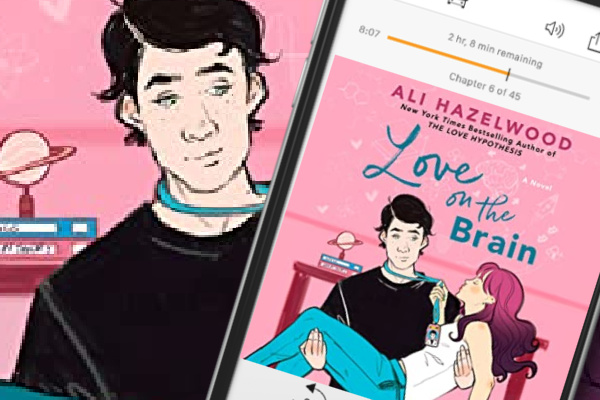 Love on the Brain by Ali Hazelwood delivered a new STEMinist RomCom and this time we are going to NASA. I have loved all of Hazelwood's romances and while I enjoyed Love on the Brain; I wanted more. Come find out why….
Love on the Brain
by Ali Hazelwood
Narrator: Brooke Bloomingdale
Length: 11 hours and 7 minutes
Genres: Romance
Source: Publisher
Purchase*: Amazon | Audible *affiliate
Rating:

Heat Level:


Narration: 5 cups Speed: 1.3x

From the New York Times bestselling author of The Love Hypothesis comes a new STEMinist rom-com in which a scientist is forced to work on a project with her nemesis—with explosive results.

Like an avenging, purple-haired Jedi bringing balance to the mansplained universe, Bee Königswasser lives by a simple code: What would Marie Curie do? If NASA offered her the lead on a neuroengineering project—a literal dream come true after years scraping by on the crumbs of academia—Marie would accept without hesitation. Duh. But the mother of modern physics never had to co-lead with Levi Ward.

Sure, Levi is attractive in a tall, dark, and piercing-eyes kind of way. And sure, he caught her in his powerfully corded arms like a romance novel hero when she accidentally damseled in distress on her first day in the lab. But Levi made his feelings toward Bee very clear in grad school—archenemies work best employed in their own galaxies far, far away.

Now, her equipment is missing, the staff is ignoring her, and Bee finds her floundering career in somewhat of a pickle. Perhaps it's her occipital cortex playing tricks on her, but Bee could swear she can see Levi softening into an ally, backing her plays, seconding her ideas…devouring her with those eyes. And the possibilities have all her neurons firing. But when it comes time to actually make a move and put her heart on the line, there's only one question that matters: What will Bee Königswasser do
Caffeinated Aspects
Science..sexy science, brains and brawn. Females in science.
28-year-old neuroscientist Bee Königswasser who asks herself, "What would Marie Curie do?" and rocks purple hair. She makes science cool and Hazelwood does, too.
Bee has relationship & career baggage and some of it holds her back, but she takes the high road and I felt that. We see character growth as she learns to trust.
a stray cat
NASA
Brilliant sexy engineer and socially awkward Levi Ward. A solid friend who is crushing on the girl but acts like an aloof ass. (until you get to know him) Cat lover.
I loved getting Bee's point of view from her inner thoughts to her twitter account.
A little suspense to push the heroine.
Bee's assistant and the things she does at NASA.
Girl Power.
Superb narration.
Lots of humor that made me laugh out loud.
Sweet, swoon-worthy moments that curled my toes.
A prickly hero who will grow on you.
Decaffeinated Aspects
I felt like Ward was too similar to Hazelwood's previous heroes. I wanted him to be more distinct, and it took me a while to cozie up to him.
The miscommunication drove me insane. So much could have been resolved if Ward wasn't so standoffish, particularly within the work environment. It's all explained, but caused angst.
I REALLY struggled to like Ward in the beginning, unlike previous heroes I couldn't see through his pompous ways and it was offputting. It took me a while, but of course Hazelwood got me to come around.
I felt like some threads were fillers and didn't truly explain away some of Ward's past behavior. The dinner with the parents… what? Awkward.
Brooke Bloomingdale narrates and did a splendid job of capturing Bee from her personality to struggles. I would listen to her again. I've listened to the past three Hazelwood releases and found her books work well in this format.
Do I recommend Love on the Brain? Of course I do. Despite my frustrations, I had a good time listening and loved the characters, despite wanting more. I adore this author and her STEM romances. I cannot wait to see what the author brings us next.
Love on the Brain by Ali Hazelwood offered a RomCom to feed your inner nerd. #Audiobook #BrookeBloomingdale #audiobookreview
Click To Tweet

Stay Caffeinated!
Never miss a post by adding Caffeinated to your Inbox
Related Posts