I love this author and her complex characters, whose personalities and quirks remind me of someone I love on the spectrum. Heart Principle is the third novel in the Kiss Quotient companion contemporary romance series. I laughed, got angry, talked to the characters and lost myself in their story.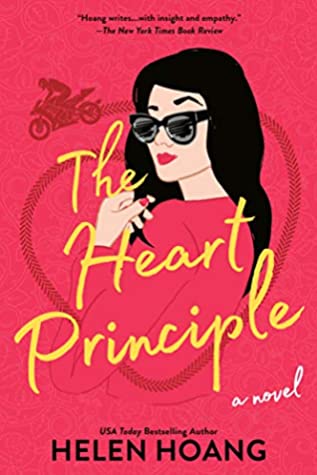 The Heart Principle
by Helen Hoang
Series: The Kiss Quotient #3
Genres: Contemporary Romance
Source: Publisher
Purchase*: Amazon | Audible *affiliate
Rating:

Heat Level:
A woman struggling with burnout learns to embrace the unexpected—and the man she enlists to help her—in this heartfelt new romance by USA Today bestselling author Helen Hoang.

When violinist Anna Sun accidentally achieves career success with a viral YouTube video, she finds herself incapacitated and burned out from her attempts to replicate that moment. And when her longtime boyfriend announces he wants an open relationship before making a final commitment, a hurt and angry Anna decides that if he wants an open relationship, then she does, too. Translation: She's going to embark on a string of one-night stands. The more unacceptable the men, the better.

That's where tattooed, motorcycle-riding Quan Diep comes in. Their first attempt at a one-night stand fails, as does their second, and their third, because being with Quan is more than sex—he accepts Anna on an unconditional level that she has just started to understand herself. However, when tragedy strikes Anna's family she takes on a role that she is ill-suited for, until the burden of expectations threatens to destroy her. Anna and Quan have to fight for their chance at love, but to do that, they also have to fight for themselves.
Coffee Dates With Heart Principle
First Date: I was so excited to read Heart Principe. I loved the first two novels in this series, from the characters to the situations. I was pulled in the moment we met violinist Anna Sun. I felt for her and saw many characteristics of my son in Anna. I also wanted to throttle her boyfriend. Don't worry, there isn't cheating if that disqualifies a romance for you. This is more than a romance, although there are plenty of swoons. It is the story of Anna finding herself, identifying and accepting who she is and letting go of trying to please everyone.
Second Date: Dating Apps weren't around when I was dating. In fact, I met my husband through my sister. When Anna and her boyfriend take a break, she is mad but her friends encourage her to get back out there. I laughed at her profile and loved the entire met cute between Anna and tattooed, motorcycle-riding Quan Diep. It was honest, sweet and made me fall for Quan. I love how Hoang touches on autism and other issues from family to disfigurement. Her characters are relatable, allowing you to connect and feel for them.
Third Date: The romance was a slow-burn with adorkable moments, fish talk and growth, as the heat built. Events forced our couple apart and had me flipped the pages as the train wreck unfolded. I desperately wanted Anna to shout out and stop those trying to control her life. Her family tried to force their version of normal on her. The drama wasn't overdone, but got me emotionally involved and forced Anna to find herself. I cried, laughed, swooned, and cheered my way to the last page.
Fans of well-developed diverse characters who are flawed and realistic will love Hoang's books and the Heart Principle. I loved the topics she addressed while keeping it real and allowing me to become connected.
The Heart Principle by Helen Hoang will pull readers in and have them emotionally invested in the outcome. #KissQuotient #Romance #NewRelease #MustRead
Click To Tweet

Stay Caffeinated!
Never miss a post by adding Caffeinated to your Inbox
Related Posts