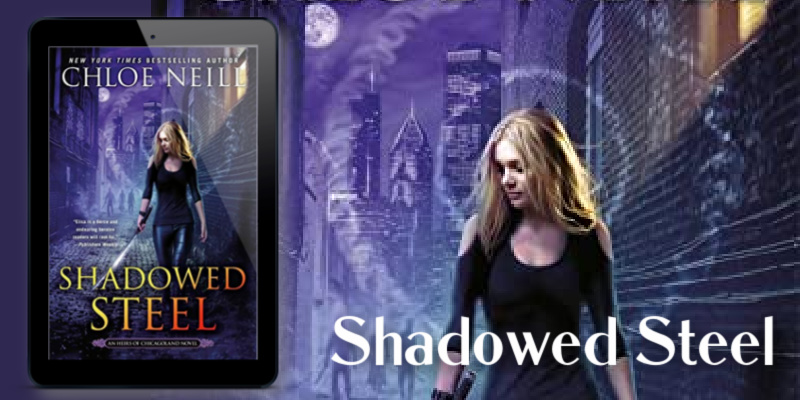 I was excited to slip into the next installment of the Heirs of Chicagoland. Shadowed Steel by Chloe Neill did not disappoint as Elisa Sullivan finds herself in trouble with the governing Vampire body and a suspect in a murder investigation. Read my review and be sure to grab a copy.
Shadowed Steel
by Chloe Neill
Series: Heirs of Chicagoland #3
Genres: Urban Fantasy
Source: Publisher
Purchase*: Amazon | Audible *affiliate
Rating:

Heat Level:
In the third installment in the USA Today bestselling Heirs of Chicagoland series, the vampires in Elisa Sullivan's world are out for blood.

Elisa Sullivan is the only vampire ever born, and she bears a heavy legacy. After a sojourn with the North American Central Pack of shifters in the wilderness—where she turned a young woman into a vampire to save her life—Elisa returns to Chicago.

But no good deed goes unpunished. The ruling body of vampires, the Assembly of American Masters, is furious that Elisa turned someone without their permission, and they want her punished. When an AAM vampire is found dead, Elisa is the prime suspect. Someone else is stalking Chicago—and Elisa. She'll need to keep a clear head, and a sharp blade, to survive all the supernatural strife.
I discovered Chloe Neill late and began with her Devil's Isle series, so I was excited about this spin-off series to her wildly popular Chicagoland Vampires.
Elisa Sullivan is the only vampire ever born and not created. In the previous book she saved a young human woman's life and the ruling body of vampires, known as the Assembly of American Masters (AAM) have summoned her. They want to hold her accountable since she broke vampire law by turning a human. With her parents out of town and Elisa unaligned with a house, she faces the charges with her friends and the shifter Prince. It does not go well; they want Elisa to join a house and be tested.
This was an intense installment as a member of the AAM turns up dead and they immediately accuse Elisa. Then there is the creepy stalker who has formed a relationship with Elisa in his head.
Elisa is clever and working to control her inner monster while finding herself, enjoying her friends and falling in love with a sexy shifter prince, but first she needs to deal with the threats that may put an end to all of it. Her friends at the Ombudsman office offer help but have to suspend her. Elisa offered some solid leads and kept her head even as her friends her threatened.
Conner and Elisa's romance progresses. Their chemistry feels genuine, and Conner is a sweet, cocky alpha who obviously adores Elisa. I enjoyed their romantic interaction and was delighted to see their relationship more defined.
A certain she wolf continues to be a pain in the arse. An elf wants to be friends, and Elisa and I connect over our love of coffee.
The case wrapped up, but I am eager to see where things are headed for Elisa, Conner and their friends.
Shadowed Steel by Chloe Neill brings trouble to Chicago for Elisa Sullivan. #HeirsOfChicagoland #UrbanFantasy #NewRelease #MustRead
Click To Tweet

Stay Caffeinated!
Never miss a post by adding Caffeinated to your Inbox
Related Posts