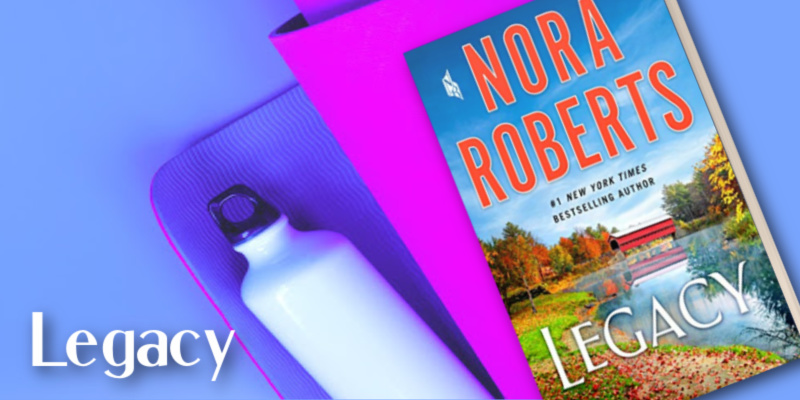 Legacy by Nora Roberts is a standalone romantic suspense with small-town charm, family, friends and a dangerous stalker. Grab an iced coffee and see why I enjoyed this standalone tale and slow-burning romance.
Legacy
by Nora Roberts
Genres: Romantic Suspense
Source: Publisher
Purchase*: Amazon | Audible *affiliate
Rating:

Heat Level:
The #1 New York Times bestselling author presents a new novel of a mother and a daughter, of ambition and romance, and of a traumatic past reawakened by a terrifying threat…

Adrian Rizzo was seven when she met her father for the first time. That was the day he nearly killed her—before her mother, Lina, stepped in.

Soon after, Adrian was dropped off at her grandparents' house in Maryland, where she spent a long summer drinking lemonade, playing with dogs, making a new best friend—and developing the stirrings of a crush on her friend's ten-year-old brother. Lina, meanwhile, traveled the country promoting her fitness brand and turning it into a billion-dollar business. There was no point in dwelling on the past.

A decade later, Adrian has created her own line of yoga and workout videos, following in Lina's footsteps but intent on maintaining creative control. And she's just as cool-headed and ambitious as her mother. They aren't close, but they're cordial—as long as neither crosses the other.

But while Lina dismisses the death threats that Adrian starts getting as a routine part of her daughter's growing celebrity, Adrian can't help but find the vicious rhymes unsettling. Year after year, they keep arriving—the postmarks changing, but the menacing tone the same. They continue after she returns to Maryland and becomes reacquainted with Raylan, her childhood crush, all grown up and as gorgeously green-eyed as ever. Sometimes it even seems like the terrifying messages are indeed routine, like nothing will come of them. Until the murders start, and the escalation begins…
Nora Roberts introduces us to Adrian Rizzo, on the day she meets her daddy for the first time. The day he almost kills her, but her mother Lina steps in and saves them both.
We grow up with Adrian, learning about her Mom's Yoga Baby Franchise and spending time with her beloved grandparents in Traveler's Creek, Maryland, where she makes her first friend, Maya Wells and crushes on Maya's older brother Raylan.
Back in New York she attends private school, and during her senior year she befriends the kids who sit at the geek table in the lunchroom. Teesha Kirk, Hector Sung, and Loren Moorhead help her create her own yoga videos and together they launch a business. After her videos go live, she receives a poem talking about her death. Her mom and their manager Harry assure her it's all a part of the business, but they share it with the FBI. Each year around Valentine's Day she receives another poem, but life goes on.
We follow Adrian, her friends, mom and first crush as they marry, navigate their businesses, lose loved ones and make connections. Adrian moves back to Traveler's Creek after her Nonna dies, and her friends follow. The tale focuses on Adrian and the life she is building with chapters thrown in from the perspective of the poem writer, who we learn is killing women across the country.
We also get chapters from a private investigation Lina hires when Adrian receives poems more frequently. The story has this small-town charm with a slow burning romance and all the while the suspense is building we learn more about who the poet is as the danger escalates.
You cannot help but like Adrian from her moral compass to her love of family and willingness to help advance others. Raylan is a comic-book geek, and his story will tug at your heartstrings. It delighted me to see the relationship develop. The dogs, kids, and their friends all added to the story from mother-daughter relationships to girls vs boys.
Roberts allowed the reader to connect with the characters and feel a part of their lives. The suspense built slowly and in the background, but each change of perspective brought us details and moved the threat closer to them.
Fans of small-town romance stories, mysteries and suspense will find Legacy checks all the boxes. While some of the elements felt familiar, I found myself invested and eager for a happily ever after.
Legacy by Nora Roberts delivered a slow-burning romance and suspenseful tale set against small-town charm. #NewRelease #RomantivcSuspense #WomensFiction
Click To Tweet

Stay Caffeinated!
Never miss a post by adding Caffeinated to your Inbox
Related Posts