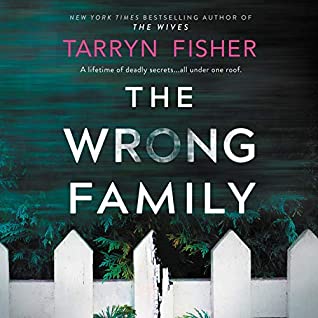 The Wrong Family
by Tarryn Fisher
Narrator: Lauren Fortgang
Genres: Thriller
Source: Publisher
Purchase*: Amazon | Audible *affiliate
Rating:

Narration: 5 cups Speed: 1.3x

From the author of the instant New York Times bestseller The Wives comes another twisted psychological thriller guaranteed to turn your world upside down.

Have you ever been wrong about someone?

Juno was wrong about Winnie Crouch.

Before moving in with the Crouch family, Juno thought Winnie and her husband, Nigel, had the perfect marriage, the perfect son—the perfect life. Only now that she's living in their beautiful house, she sees the cracks in the crumbling facade are too deep to ignore.

Still, she isn't one to judge. After her grim diagnosis, the retired therapist simply wants a place to live out the rest of her days in peace. But that peace is shattered the day Juno overhears a chilling conversation between Winnie and Nigel…

She shouldn't get involved.

She really shouldn't.

But this could be her chance to make a few things right.

Because if you thought Juno didn't have a secret of her own, then you were wrong about her, too.
The Wrong Family by Tarryn Fisher, narrated by Lauren Fortgang, grabbed me by the fist and never letting go. A heart-pounding thriller with plenty of twists.
This starts slow and it may tempt you to set it aside, but don't. Once it grabs you, the ride is terrific and unputdownable. I also recommend going in cold. The synopsis does a good job of leaving you in suspense, but the less you know the better.
The tale that unfolds was riveting, horrifying, terrifying, jaw-dropping and wholly original. Fisher weaves a tale that took me through a series of emotions, made me question everyone, and left me slack jawed. Brilliant, really.
She takes us into the lives of Crouch family. Winnie and Nigel seem to have the perfect life. They live on a desired street and have a teenage son. When Juno moves in, she hears things, things that unnerve her and she acts.
Lauren Fortgang's narration captured the characters' emotions, flaws and fears. She added another layer to this thriller that enhanced my experience.
From the nail-biting thrill of discovery to the dark secrets and denial, there was no escape. I recommend you turn of notifications and grab your headphones…
The Wrong Family by Tarryn Fisher, narrated by Lauren Fortgang, will grab you and never letting go. A heart-pounding thriller with plenty of twists. #Thriller #Audiiobook #MustListen
Click To Tweet
Reading this book contributed to these challenges:
Related Posts