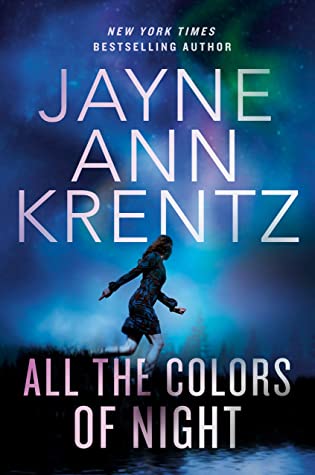 All the Colors of Night
by Jayne Ann Krentz
Series: Fogg Lake #2
Genres: Paranormal Romance
Source: Publisher
Purchase*: Amazon | Audible *affiliate
Rating:

Heat Level:
Two psychics plunge into a dark world of deadly secrets in this second installment of the Fogg Lake trilogy by New York Times bestselling author Jayne Ann Krentz.

North Chastain possesses a paranormal talent that gives him the ability to track down the most dangerous psychic criminals. When his father suddenly falls into a coma, North is convinced it was caused by a deadly artifact traced back to the days of a secret government laboratory known only as the Bluestone Project. North knows his only hope of saving his father is to find the artifact. He is good when it comes to tracking down killers but to locate the relic, he's going to need help from a psychic who knows the shadowy world of obsessive collectors, deceptive dealers, and ruthless raiders…

With her reputation in ruins after a false accusation, antique expert Sierra Raines is looking for a fresh start. She turns to the murky backwaters of the paranormal artifacts trade, finding and transporting valuable objects with a psychic provenance. When North Chastain approaches her for help, Sierra takes him on as a client, though not without reservations. North represents the mysterious Foundation, the secretive organization established to police the underworld populated by psychic criminals and those, like Sierra, who make a living in the shadows of that world.

North and Sierra soon find themselves at the scene of The Incident that occurred decades ago in Fogg Lake. The town and its residents were forever changed by the disaster in the nearby Bluestone Project labs. The pair unearth shocking truths about what happened that fateful night, but they are playing with fire—someone in town knows what they've discovered and will do anything to make sure the secrets stay buried.
We are back with a new book in the Fogg Lake paranormal romantic suspense series with All the Colors of Night by Jayne Ann Krentz. Danger, a new partnership, and chemistry made for an engaging read.
When North Chastain's father falls into a coma, he believes a Bluestone Project artifact caused it. He plans to investigate his Dad's recent activities but needs someone familiar with the area. They hire Sierra Raines to help him navigate the world of collectors.
This was a fun installment. I liked both North and Sierra. North is skilled at catching criminals and spotting a lie. His gifts allow him to shield against paranormal attacks, but fears a recent case has damaged his abilities. Sierra is skilled at seeing auras and telling if an artifact is authentic and powered. I loved the way she used mirrors. Their chemistry was great, even if neither trusted the other at the onset. Krentz delivered growth as these two loners learn to trust and help each other.
Th case eventually leads them back to Fogg Lake. I loved spending more time there with key characters. We learn more concerning the overall series arc with hints of things to come. North's family got answers regarding his grandfather and what happened to his Dad.
I love the blending of paranormal woo-woo, suspense and romance in this series and feel like this was the strongest installment to date. By far one of my favorite authors in this genre, the Fogg Lake series is a must read.
Related Posts