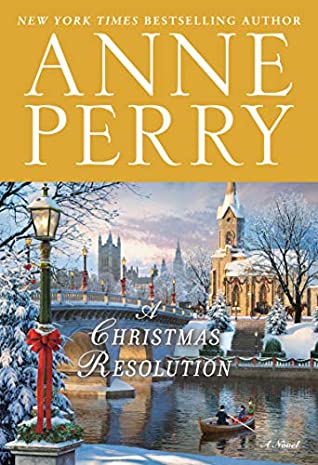 A Christmas Resolution
by Anne Perry
Series: Christmas Stories #18
Genres: Historical, Mystery
Source: Publisher
Purchase*: Amazon | Audible *affiliate
Rating:
A smitten young woman is about to marry a dangerous man--unless Detective Hooper and his new girlfriend can prevent it--in this wickedly tangled holiday mystery from bestselling author Anne Perry.

Detective John Hooper, William Monk's right-hand man at the Thames River Police, has fallen in love with Celia, the cousin of the victim in their most recent murder case. Now Celia has discovered that the man her good friend plans to marry this Christmas is far from what he seems. Her fiancé's first marriage ended with his wife walking into the sea--not of her own accord--and Celia hopes Hooper can help show her friend the truth.

But Celia herself has not always been truthful--especially not in the murder trial following her cousin's death. How can she be believed now when she lied on the stand? With Christmas fast approaching and both Celia and her friend's lives on the line, Hooper must put his own moral code to the test in this suspenseful holiday mystery from bestselling writer Anne Perry.
Sophia Rose is here during the Ho-Ho-Ho readathon. Grab some hot cocoa and check out her review of A Christmas Resolution by Anne Perry. Perfect for fans of historical mysteries.
Sophia Rose's Review
It's easy to forgive someone you like, but to genuinely forgive an unlikable person a bit of Christmas miracle might be necessary. The latest of the Christmas Stories series is a follow up to some of the events in Dark Tide Rising. Some history and mystery, but a thoughtful, holiday season novella with heart.

Anne Perry's Christmas Stories series tell standalone, novella-length mysteries set both at Christmas and in the worlds of her two Victorian Detective series. This eighteenth installment, A Christmas Resolution, delves into the William Monk world with one of the prime secondary characters, his right hand man, John Hooper. Hooper's past came to light in Dark Tide Rising and he also met his wife in the critical hour. Two lonely people are adjusting to marriage and the partnership in life's toils and troubles as a result.

Celia has been confronted by a self-righteous temperamental man from the village church congregation because he suspects she is behind a poison pen letter he has received, but also because he sees what she did to get justice and save Hooper was a sin against God even though the courts and the vicar do not. The only way to free Celia from his threat and perhaps open the eyes of Celia's truly good friend who has agreed to marry him is for Celia and her husband to get to the truth behind the letters on a trail into his past. Meanwhile, Celia wrestles with the Christian teaching about forgiveness and how that applies to the nasty-tempered Mr.
Marlowe.

I've long been a fan of the author's work to bring the Victorian world of London to life from its high, lofty Mayfair drawing rooms to its teaming, gritty slums in the East End and everything in between like this working class village along the Thames.
Along with setting, she sketches in complex, shadowed characters with very believable human frailties and strengths like Celia and Hooper learning what daily life in a marriage is or a person coming to terms with a moral dilemma or a person choosing their weakness and fear over the work of changing.
And, that is before one gets to the delicious mystery plots that twist and turn their way to a conclusion. The level of development in her novellas like this Christmas-themed one is no less than the novels in her main series books. I eagerly await each new release and the experience of reading her books.
Those who want a solid historical mystery set against the holiday season should pick this one up- or start anywhere in the series that grabs the attention.
Related Posts