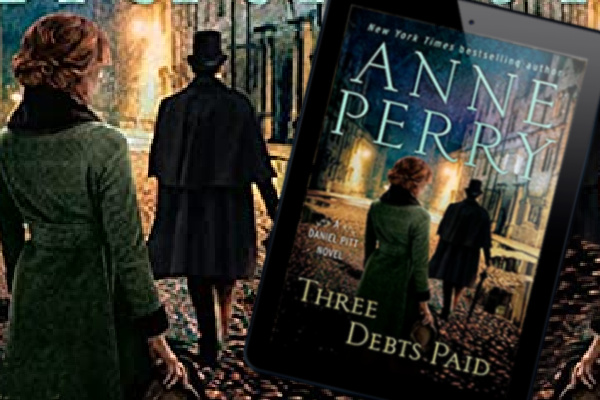 Sophia Rose is back with Three Debts Paid by Anne Perry, the fifth book in the Daniel Pitt mystery series. Grab a glass of iced coffee and check out her review of this gripping historical fiction mystery.
Three Debts Paid
by Anne Perry
Series: Daniel Pitt #5
Genres: Historical Fiction, Mystery
Source: Publisher
Purchase*: Amazon | Audible *affiliate
Rating:
Three Debts Paid is the fifth gripping instalment in an exciting new generation of Pitt novels from the pen of highly acclaimed crime writer and New York Times bestselling author Anne Perry.

It is February 1912 when barrister Daniel Pitt is reunited with his old college friend, Inspector Ian Frobisher. Following allegations of plagiarism, one of their Cambridge University professors has committed an assault, and Ian has recommended that Daniel defends him.

Meanwhile, Daniel's dear friend Miriam fford Croft has returned to London as a newly qualified forensic pathologist and is working with eccentric Dr Evelyn Hall. On Daniel's first visit to the morgue, he is shocked to find Miriam examining the mutilated body of a young woman and, what's worse, it is being compared to another corpse bearing identical wounds. As rumours spread of a serial killer, nicknamed 'the rainy-day slasher', stalking the streets of London, Daniel hears that Ian Frobisher is in charge of the case.

So begins the harrowing pursuit of a brutal murderer whose killing spree is far from over..
Sophia Rose's Review
Returning to the dark streets and shadowy secrets of Edwardian London, the latest book draws the reader not just into Daniel Pitt's world, but into the mind and heart of him and the other engaging characters as they solve the crime and bring the cases to court. Each installment of the series is highly anticipated as I'm a long-time fan of the author's writing, but particularly Daniel Pitt as the main character and the strong, complex cast who are also series regulars.
Three Debts Paid is the fifth book in the series. It could be read out of order because the mystery is standalone, but the author develops the character and the relationships throughout the series so they are definitely best read in order.
Much is happening in Three Debts Paid. Daniel is handling a legal case on his own now. Miriam is back from training in Holland and is now working for the police as only the second woman pathologist and on her first criminal death with the two bodies that have come in. They feel the gentle tug of attraction in spite of her being fifteen years his senior, but are taking it slow as they figure out feelings and what they want to do about it. Miriam's bodies are part of new main character and Daniel's good university friend, Inspector Ian Frobisher's case on the trail of a serial killer.
Daniel's legal case is interesting so far as it demonstrates his personal growth and his career growth, but the focus of the book was most definitely the series of murders. I loved how Miriam's forensic and pathology work were a big part and equal to Ian's investigative work. Daniel was in the know and on the periphery. I was not expecting the shift to now there being three main characters, but I don't mind. The author has done this in the past with previous series and it adds more facets and depth to the books as far as I'm concerned. I liked Ian right away even when he and his crusty sergeant who is his investigation partner would do some verbal sparring and sniping as they went. I was definitely all for the progress of Daniel and Miriam's gently paced romance.
The blend of authentic historical backdrop of Edwardian times leading toward the shadows of WWI, women's progress in careers and votes, and more with the mystery is a huge reason I enjoy this series beyond the characters. The mystery was one I figured out early on, but was glad to go along as they got there with the evidence and investigation.
There were a few engaging scenes with Daniel's parents and references back to their own mystery solving days and how they fill support roles in this spinoff series.
Wrapping it up, I was well satisfied with being back in the Daniel Pitt world and can't wait for the next installment. Authentic history fiction and gritty, gripping mystery all in one are definitely recommended to other historical mystery fans.
Three Debts Paid by Anne Perry delivered a satisfying installment in the Daniel Pitt Mystery series. #SophiaRose #bookreview #DanielPitt
Click To Tweet

Stay Caffeinated!
Never miss a post by adding Caffeinated to your Inbox
Related Posts