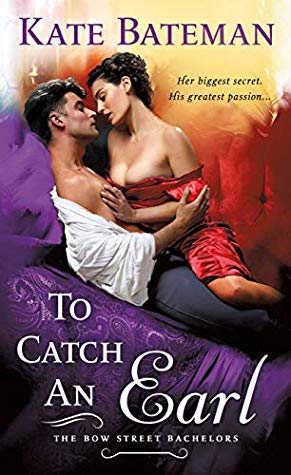 To Catch an Earl
by Kate Bateman
Series: Bow Street Bachelors #2
Genres: Historical Romance
Source: Publisher
Purchase*: Amazon *affiliate
Rating:

Heat Level:
A case of secret identities finds reunited lovers on opposite sides of the law in this fun, flirty Regency romance.

There's only one case Bow Street agent Alex Harland, Earl of Melton, hasn't cracked: the identity of the mysterious woman who stole a kiss from him before he left for war. He's neither forgotten--nor forgiven--her for leaving him wanting. When he starts investigating the Nightjar, an elusive London jewel thief, he keeps running into the alluring Emmy Danvers, who stirs feelings he hasn't felt in years.

Even though Emmy's loved Alex for years, she can't risk revealing her heart, or her identity as the Nightjar. With Alex on her case, Emmy knows that her secrets are in danger of being discovered. Their cat and mouse game heats up with every interaction, but when Emmy's reputation--and life--is at risk, will Alex realize that some rules are made to be broken for love?
Swoons and a cat-and-mouse game await you in To Catch an Earl by Kate Bateman. This is the second novel in the Bow Street Runners as Alex Harland, Earl of Melton hunts for the mysterious jewel thief known as the Nightjar.
I loved the first novel and was eager to dive into Alex's story. While each of the books have their own romance and can stand on their own, the overall ARC features three second sons, who were in the war together. The three received earldoms, own a gambling establishment and work for the crown as bow street runners. Suspense, swoons and humor await you…
The Earl of Melton is determined to catch an elusive London jewel thief known as the Nightjar. The Nightjar who hasn't been active in years is suddenly stealing gems with a unique history.
Since returning from the war, he has also been working his own personal case; one that haunts his dream. Before leaving, he shared a kiss with a masked woman and no other will do. She proves to be just as elusive as the Nightjar until past and present collide….
Oh, how I loved the banter and cat-and-mouse game that unfolded between Emmy and Alex. Emma knows exactly who Alex is and she should stay far away, but he draws her to him like a moth to a flame. Eep!
I adored Emmy. She is cunning, clever and loves her family beyond measure. She fantasied about Alex, even if he may cost her everything.
Bateman weaved a tale that held me captive. The Nightjar was clever and the history, methods and reasons kept me flipping through the pages. Would they be caught?
Fans of historical romance, suspense and swoon-worthy romances filled with wicked banter will want to add To Catch an Earl to their bookshelf.
Swoons, suspense and delightfully wicked banter await you in… To Catch an Earl by Kate Bateman #BowStreetRunners #NewRelease #hisoricalromance
Click To Tweet
Related Posts