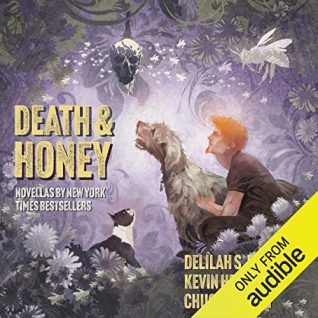 Death & Honey
by Kevin Hearne, Chuck Wendig, Lila Bowen
Narrator: Luke Daniels, Xe Sands, Robin Miles
Length: 7 hours and 23 minutes
Genres: Urban Fantasy
Source: Purchase
Purchase*: Amazon | Audible *affiliate
Rating:

Narration: 5 cups Speed: 1.3x

Death & Honey contains three new novellas by New York Times best sellers Delilah S. Dawson, Kevin Hearne, and Chuck Wendig.

In The Buzz Kill by Kevin Hearne, Oberon the Irish wolfhound, and Starbuck the Boston Terrier sink their teeth into a new Meaty Mystery when they discover a body underneath a beehive in Tasmania. It's been badly stung, but the bees aren't at fault: This is homicide. The hounds recruit the help of their Druid, Atticus O'Sullivan, and the Tasmanian police to track down the killer in the interest of a reward - but this time, they want more than food, and justice.

Grist of Bees, by Delilah S. Dawson writing as Lila Bowen, follows Rhett Walker, who has given up his destiny as the monster-hunting Shadow to settle down with his beloved Sam. But when the call to action grows too strong, Rhett saddles up to follow a peculiar bee into the unforgiving desert. The bee leads him to a weeping mother in a strangely prosperous valley, and Rhett has no choice but to hunt the creature that's stolen her child - even if it destroys a land of milk and honey.

Interlude: Tanager by Chuck Wendig returns us to the world of Miriam Black. Lauren "Wren" Martin is a young psychic woman who can see the stained souls of killers; it is her gift, or as she sees it, her curse. And up until now, it has been her mission to kill those killers, to remove them from the pattern so that they may not murder again. But now, after a death that may not have been deserved, she's left rudderless, without plan or purpose, until a woman with a strange power of her own takes her in and gives her a new mission - and a new target.
Death & Honey by Kevin Hearne, Chuck Wendig, and Lila Bowen feature three stories involving "death & honey." I bought this for Oberon's Meaty Mystery and have enjoyed the other authors, but not the particular worlds these stories come from.
This anthology features three authors I enjoy, so I was eager to dive in. With the stellar cast of narrators, reading was not an option. ?
The Buzz Kill by Kevin Hearne
Rating:
This is an Oberon Meaty Mystery, narrated by Luke Daniels and the number one reason I bought this anthology.
This tale pics up shortly after the events of Scourged, the last novel in the Iron Druid Chronicles. Attius and the dogs have been camping and healing Tasmanian Devils, when Atticus gives them some time to explore. Oberon and Starbuck are soon following a bee, hoping to see a hive. They find the hive but also a dead body and soon the threesome find themselves in the middle of a meaty mystery! It was wonderful getting updates. The mystery was clever and involved tracking, food and the police.
For non-Iron Druid fans, this is a standalone mystery. Hearne did an impressive job of providing character background.
Luke Daniels offers an array of voices and I cannot recommend him enough. He narrates all the Iron Druid Chronicles and Oberon's Meaty Mysteries. I confess, I look for books he narrates. It felt like coming home. If you start the series, grab it on audio because it's amazing.
Grist of Bees, by Delilah S. Dawson, writing as Lila Bowen
Narrated by Robin Miles, this takes place in the world of Bowen's Shadow series. I have read and enjoyed audiobooks by Dawson, so I was curious to read this. The story centers on Rhett Walker, who has just finished his day when a bee begins to bother him and seems to want him to follow. The bee leads him to a woman who tells him how the Oracle's handmaidens came down off the mountain and stole her daughter. Something inside of Rhett urges him to help. Terms are met and our adventure begins.
While in some respects I felt I had been dropped into this western landscape, I thought the author did a strong enough job allowing this story to work for newcomers.
As we journey Rhett faces monsters and runs into old friends before the climatic battle. While, the world and characters were interesting it just never grabbed me. The beginning and end were the most interesting, but the middle never fully pulled me in.
Robin Miles was lovely with the narration and offered unique voices, nice pacing and enhanced the story.
Interlude: Tanager by Chuck Wendig
This is a Wren novella from his Miriam Black world. Xe Sands narrated the story and one I was eager to try. Wendig's novel the Wanderers was a top ten read for me and my first by this author. I liked this dark, gritty tale about a girl with a talent to see if someone is capable of murder. She is offered a job and becomes an assassin.
This was dark, twisted and had flashbacks that enabled me to get a feel for the world and series but also to fully enjoy the tale. The climatic ending was tense, and I liked the story enough that I will seek the series out on audio.
Xe Sands was delightful and the perfect choice for the story. I find her pacing, tone and voices to enhance any story she narrates.
*~**~*
I love these types of anthologies that allow me to get a taste of authors or worlds and think this was a win. Recommended for fans of urban fantasy, magic, mythology, and supernatural abilities.
Death & Honey by Kevin Hearne, Chuck Wendig, and Lila Bowen feature three stories involving "death & honey." Grab your earbuds and enjoy! #audiobook #urbanfantasy #LukeDaniels #XeSands #RobinMiles
Click To Tweet
Reading this book contributed to these challenges:
Related Posts