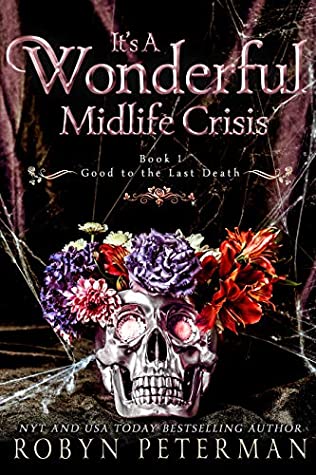 It's A Wonderful Midlife Crisis
by Robyn Peterman
Series: Good To The Last Death #1
Genres: Paranormal Women's Fiction
Source: Purchase
Purchase*: Amazon *affiliate
Rating:

Heat Level:
A Paranormal Women's Fiction with a bit of class, and a lot of sass, for anyone who feels like age is just a number!

Whoever said life begins at forty must have been heavily medicated, drunk, or delusional.

Thirty-nine was a fantastic year. I was married to the man I loved. I had a body that worked without creaking. My grandma, who raised me, was still healthy, and life was pretty damned good.

But as they say, all good things come to an end. I'd honestly love to know who 'they' are and rip them a new one.

One year later, I'm a widow. My joints are starting to ache. Gram is in the nursing home, and dead people think my home is some kind of supernatural bed and breakfast. Gluing body parts onto semi-transparent people has become a side job—deceased people I'm not even sure are actually there. I think they need my help, but since I don't speak dead, we're having a few issues.

To add to the heap of trouble, there's a new dangerously smokin' hot lawyer at the firm who won't stop giving me the eye. My BFF is
thrilled with her new frozen face, thanks to her plastic surgeon, her alimony check, and the miracle of Botox. And then there's the little conundrum that I'm becoming way too attached to my ghostly squatters… Like Cher, I'd like to turn back time. Now.

No can do.

Whatever. I have wine, good friends, and an industrial sized box of superglue. What could possibly go wrong?

Everything, apparently.

All in all, it's shaping up to be a wonderful midlife crisis…
It's A Wonderful Midlife Crisis by Robyn Peterman is the first novel in the paranormal women's fiction series, Good to the Last Death. Ghosts, body-aches and a sexy, mysterious lawyer delivered a delightful start to this series.
I've listened to Peterman's Shift Happens series and her new series did not disappoint. Humor, engaging characters and an interesting paranormal gift quickly pulled me in.
Daisy, a thirty-nine-year-old widow, and paralegal loves working with her friends. However, Clarissa the owner's daughter is a terror. When the firm hires a sexy new lawyer, Clarissa calls dibs and forces Daisy to work from home. Which at the moment is fine, since Daisy has been seeing ghosts. In fact, some are living with her and hogging the TV.
A mix of humor, paranormal woo-woo and romance held me spellbound. Peterman creates relatable characters and weaved in some adorable animals you'll enjoy. Karen and Donna the Destroyer added to the tale and have some unique skills. From ghostly limb issues, the hot sexy lawyer who might just be able to see her ghostly roommates.
From the romance to the unique storyline, I soon found myself fully invested. It looks like the story ARC and romance will unfold throughout the series and I am looking forward to seeing Daisy hone her skills.
Fans looking for friendship, paranormal cases and a touch of romance should run not walk to grab It's A Wonderful Midlife Crisis.
The next books in this series Whose Midlife Crisis Is It Anyway? releases May 18th and A Most Excellent Midlife Crisis releases August 17th.
It's A Wonderful Midlife Crisis by Robyn Peterman delivered romance, humor and paranormal woo-woo. #ParanormalWomensFiction #GoodtotheLastDeath #KindleUnlimited
Click To Tweet
* Available in Kindle Unlimited.
Related Posts