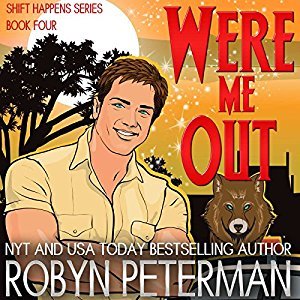 Were Me Out
by Robyn Peterman
Series: Shift Happens #4
Narrator: Hollis McCarthy
Length: 4 hours and 34 minutes
Genres: Paranormal Romance
Source: Audible Escape
Purchase*: Amazon | Audible *affiliate
Rating:

Heat Level:


Narration: 4 cups Speed: 1.3x

Why do I have to have my tail in a knot for the one hot, sexy Werewolf who can't seem to keep his Johnson in his pants?

I'm a nice girl—really I am. I'm just a typical computer-hacking, knife-throwing, Star Trek-obsessed, overeducated Werewolf nerd who can't seem to get her love life to compute.

However, it's time to grow up and face the music or more accurately the man I'm in love with… Junior aka Jacob Wilson—the Alpha of the Georgia Pack. First I'll have to stand up to some nasty gals who's pants are so tight I can see their religion. Then I'll claim my man.

What should be an easy feat, gets sucktastic when you throw in a three hundred year old fabulous gay Vampyre, an antiquated motherboard from the 90's and a challenge from the vicious, deadly Alabama Pack. Not to mention a libido that is out of control. Mine.

So I'm just gonna dive in—head first and eyes closed. Love conquers all. Right? As long as reality doesn't wear me out, I plan to win
Were Me Out by Robyn Peterman is the fourth audiobook in the Shift Happen paranormal romantic suspense series. We've been hearing about Jr's pining over Sandy throughout the series and we finally get their romance.
Hollis McCarthy narrated the fourth Shift Happens audiobook as we get Junior aka Jacob Wilson and Sandy's romance. Sandy has had a thing for Jr since she was a teen, but could never imagine those feelings being returned. Now that she is back from college he has been pestering her, but the man has a reputation and if he wants Sandy, he will have to work for it.
I love nerds. Both Jr and Sandy love all things computers and Star Trek. Jr isn't a smooth Casanova, he is also a klutz but like Hank he is a sexy alpha were and apparently Sandy is his true mate, only she is being stubborn because Hank was a manwhore. ?Mix in some danger, a scary MIL, and you've got yourself a good time.
This was a mix of humor, awkward adorkableness and heartwarming, aww-shucks moments. Secondary characters are present and we learn a little more about the WTF council.
Hollis McCarthy narrates and captured both Sandy and Jr perfectly. This series lends itself perfectly to audio and McCarthy enhanced my enjoyment.
Were Me Out by Robyn Peterman was another fun listen in the #ShiftHappens #paranormal #romanticsuspense series.
Click To Tweet
Related Posts