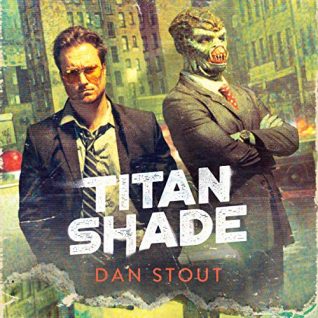 Titanshade
by Dan Stout
Series: The Carter Archives #1
Narrator: Mikael Naramore
Length: 12 hours and 50 minutes
Genres: Fantasy
Source: Purchase
Purchase*: Amazon | Audible *affiliate
Rating:

Narration: 5 cups Speed: 1.4x

This noir fantasy thriller from a debut author introduces the gritty town of Titanshade, where danger lurks around every corner.

Carter's a homicide cop in Titanshade, an oil boomtown where 8-tracks are state of the art, disco rules the radio, and all the best sorcerers wear designer labels. It's also a metropolis teetering on the edge of disaster. As its oil reserves run dry, the city's future hangs on a possible investment from the reclusive amphibians known as Squibs.

But now negotiations have been derailed by the horrific murder of a Squib diplomat. The pressure's never been higher to make a quick arrest, even as Carter's investigation leads him into conflict with the city's elite. Undermined by corrupt coworkers and falsified evidence, and with a suspect list that includes power-hungry politicians, oil magnates, and mad scientists, Carter must find the killer before the investigation turns into a witch-hunt and those closest to him pay the ultimate price on the filthy streets of Titanshade.
Titanshade by Dan Stout is the first novel in the Carter Archives. Despite owning the book, I ended up grabbing the audiobook narrated by Mikael Naramore. Brilliant and intense, this fantasy crime thriller hooked me from the start.
The Carter Archives are made for audio from Dan Stout's writing style to the narration delivered by Mikael Naramore. If you love the Dresden Files, Law & Order or crime mystery cases, you'll sink right into this urban fantasy where supernaturals live and work side by side with humans.
Eric Carter is a human homicide detective. He is great at his job, but a PR nightmare for the department. When a high profile Squib diplomat is murdered in his hotel room, they assign Carter to the case. However, Ajax, a Mollenkampi, fresh from the academy, is partnered with him.
The world building was impressive and had a 70s vibe that made me smile. If you lived it… then the pagers, payphones, and disco will be a trip down memory lane. We aren't given info dumps but learn as necessary, allowing for a steady and addictive pace. There is magic, energy shortages, twists on religion and death, and a shifting of the continents.
The case hooked me from its gruesome start to the Candies they investigated. Corruption, politics and well-plotted threads wove together for a stunning listen.
The characters made the story from our flawed hero to villains. I loved the dynamic between Carter and Ajax, his Captain and the volatile situation between him and the case lead. It allowed for humor to offset the grim case.
It blows my mind that this is a debut novel. Dan Stout's writing is smooth, addictive and translates perfectly to audiobook like that of a seasoned writer.
As I stated, Titanshade was made for audio. Mikael Naramore did a stellar job capturing Eric Carter and secondary characters. The snark, dark humor, horror and banter were perfectly delivered from inflection to tone.
Reading this book contributed to these challenges:
Related Posts