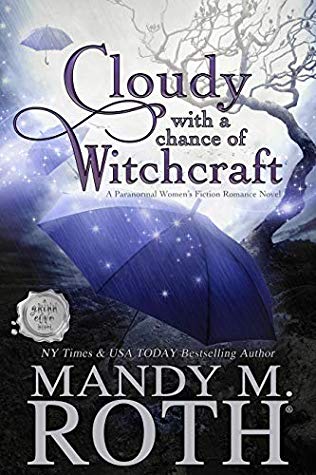 Cloudy with a Chance of Witchcraft
by Mandy M. Roth
Series: Grimm Cove #1
Genres: Paranormal Women's Fiction
Source: Purchase
Purchase*: Amazon *affiliate
Rating:
When it rains, it pours...

On the eve of my fortieth birthday, Fate has given me a second chance at the happiness I once knew in the odd Southern town of Grimm Cove. But only if I can come to terms with some rather eye-opening revelations. Supernaturals are a real thing. I'm a witch. My high school sweetheart, who happens to be the Chief of Police in Grimm Cove, is my fated mate and a wolf-shifter. Ghosts exist and can be very nosy and meddlesome. Someone is murdering witches left and right. And last but not least, my ex-husband's barely legal arm candy is taking fatal attraction to new levels of Hell.

I'm no shrinking violet, and with the help of my best friends, I'm going to live life on my terms--come Hell, high water, or magikal mishaps.
Cloudy with a Chance of Witchcraft by Mandy M. Roth is the first novel in the Grimm Cove paranormal romance series with witches, shifters and vampires. Magic, suspense, and a second chance romance made for a delightful tale.
the scoop
This is the first book in the Grimm Cove trilogy, it has a small-town cozy feel with romance and a quiet little town where residents are of the supernatural variety. Poppy's husband asks for a divorce, and she heads home to the house her grandparents left her in Grimm Cove. Her best friend's from college are making a fresh start with her.
While the romance was fast moving as mated romances tend to be, I loved Cloudy with a Chance of Witchcraft. Poppy is a witch, but her parents never practice, and she is untrained. She doesn't even believe in it; she is however skilled with plants and at making potions. Brett the local chief of police was Poppy's first love, and it looks like fate will give them a second chance.
The author delivered a suspense angle. First, witches are turning up dead and local Brett has been looking for a break in the case. When Poppy and her friends arrive in town, it looks like evil forces are trying to keep her from her ancestral home. I loved all the paranormal woo-woo, some dark, but some delivered humor.
Secondary characters were fantastic from quirky to the delicious back and forth snarky banter as we gain a hint of the romance in book two.
The book offered friendship, humor women over forty can relate to and new beginnings. The story flowed easily and left me smiling.
The tale wrapped up nicely, and I look forward to Hexing with a Chance of Tornadoes available now, and Spellcasting with a Chance of Spirits releasing at the end of May 2020.
Magic, suspense, and a second chance romance await you in this delightful tale. Grab Cloudy with a Chance of Witchcraft by Mandy M. Roth #Paranormal #WomensFiction #GrimmCove
Click To Tweet
*This book is part of a new genre created by thirteen authors who got together to write paranormal women's fiction with heroines over 40. You can learn more in their Facebook group, Paranormal Women's Fiction.
Related Posts