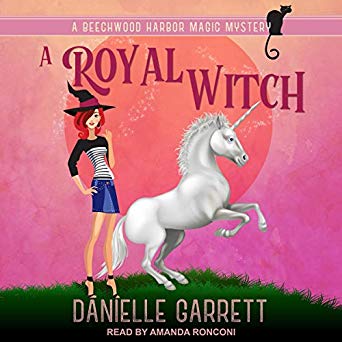 A Royal Witch
by Danielle Garrett
Series: Beechwood Harbor Magic Mystery #7
Narrator: Amanda Ronconi
Length: 5 hours 38 minutes
Genres: Paranormal, Cozy Mystery
Source: Publisher
Purchase*: Amazon | Audible *affiliate
Rating:

Narration: 5 cups Speed: 1.3x

The Beechwood Manor is filling up fast and Holly's feeling the pinch.

There are several new roommates in the Beechwood Manor, and one of them is a royal witch.

Literally and figuratively.

Unrest in a haven-ally magical kingdom leads a foreign princess into hiding and the Supernatural Protection Agency deems the Beechwood Manor as the perfect safe house—and Holly, her perfect guardian.

But with Holly's business taking off and a new apprentice under her wing, a royal babysitting detail is the last thing she needs. Besides, the spoiled princess is adamant she can take care of herself. So who could blame her if her supervision is a little lax?

When tragedy strikes, the bratty royal's problems land at the manor's front door and it's going to take all hands on deck if the paranormal roomies hope to make it out alive.
A Royal Witch by Danielle Garrett is the seventh audiobook in the Beechwood Harbor Magic Mystery series narrated by Amanda Ronconi. Unicorn poop, princesses and trouble are brewing in this action-packed installment featuring Holly and the residence of Beechwood Manor.
Things are busy at the manor and for Holly. She is getting ready to open her new potion shop and has Harmony, whom we met from the Touch of Magic series, helping her. She and her boyfriend Adam whose relationship still boggles me are making plans.
The manor is full, with a Supernatural Protection Agent living among them when they learn a princess will board with them. This brings another guest who proves to be trouble. Posy, the ghostly owner of the manor is losing it and Holly and the others become caught up when the Princess goes missing. Nick and others joined in as the gang headed to a magical farm.
It was an intense installment, but Garrett weaved in some humor and normalcy as she delivered an interesting mystery and frustrated me before Holly made some decisions which pleased me.
I am quite curious to see what the next audiobook brings. While they resolved the Princess mystery, things are up in the air with the manor and threads concerning Holly's Potions store.
Amanda Ronconi narrates this series and does such an excellent job capturing the characters and tones of the tales. I can't imagine not listening to the series.
Fans of paranormal & cozy mysteries will love this series from the setting to the characters who live in the manor.
Reading this book contributed to these challenges:
Related Posts