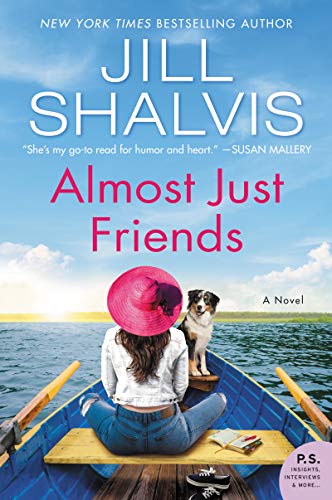 Almost Just Friends
by Jill Shalvis
Series: Wildstone #4
Genres: Contemporary Romance
Source: Publisher
Purchase*: Amazon | Audible *affiliate
Rating:

Heat Level:
Piper Manning's about as tough as they come, she's had to be. She raised her siblings and they've thankfully flown the coop. All she has to do is finish fixing up the lake house her grandparents left her, sell it, and then she's free.

When a massive storm hits, she runs into a tall, dark and brooding stranger, Camden Reid. There's a spark there, one that shocks her. Surprising her further, her sister and brother return, each of them holding their own secrets. The smart move would be for Piper to ignore them all but Cam unleashes emotions deep inside of her that she can't deny, making her yearn for something she doesn't understand. And her siblings…well, they need each other.

Only when the secrets come out, it changes everything Piper thinks she knows about her family, herself…and Cam. Can she find a way to outrun the demons? The answer is closer than she thinks—just as the new life she craves may have already begun.
Swoon… I think Almost Just Friends by Jill Shalvis was my favorite Wildstone romance to date. I laughed, swooned, cried and damn it I want to book a room at the B&B and eat blueberry pancakes! ?
This is the fourth Wildstone book, but don't worry it works as a standalone. Piper Manning is finally making plan to go to college after raising her siblings. She's been fixing up the lake house they called home that their grandparents left them. She plans to give her siblings their share and use hers for tuition…and then they come home.
Then there is Camden Reid the distraction next door. Suddenly life is complicated and all of Piper's lists and plans are complicated! ?
Gads Shalvis delivered all the elements I love in a good romance. A tall, dark, brooding hero. An adorkable, caring, strong heroine. Both flawed, with wicked chemistry, delicious banter and melt my heart moments.
I loved the slow build, the friendship, the slow confessions and the undeniable chemistry. It felt genuine, and I became completely caught up in their story.
And as if that weren't enough, she had to give us the sibling stories! We get a second chance romance, share a loss and new beginnings. Camden's Dad was a hoot and the family drama included food fights…it delivered all the feels from laughter to tears.
Shalvis offered diversity, included addiction, unexpected changes and finding happiness. And to the list makers, she gave us a heroine to cheer for!
Swoon… Almost Just Friends by Jill Shalvis was Caffeinated's favorite Wildstone romance to date. #NewRelease #Romance #Wildstone
Click To Tweet
Related Posts