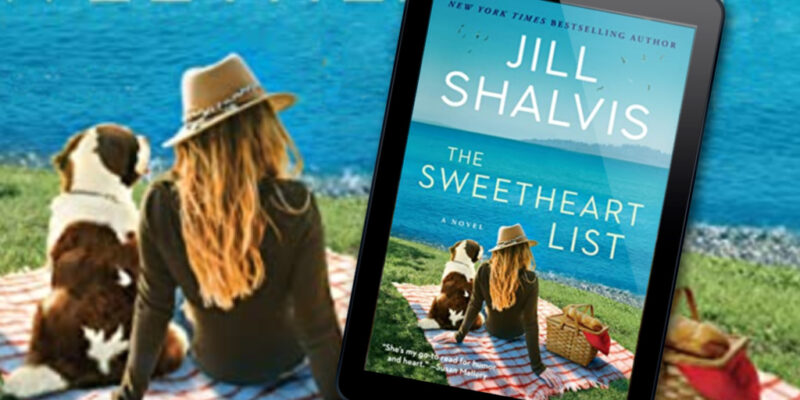 I love spending time in Sunrise Cove and was delighted to slip into The Sweetheart List by Jill Shalvis. This is the fourth standalone contemporary romance set in the small-town lakeside community of Sunrise Cove, on Lake Tahoe. Swoons, foodie talk, brothers, friendships and more await you…
The Sweetheart List
by Jill Shalvis
Series: Sunrise Cove #4
Genres: Contemporary Romance
Purchase*: Amazon | Audible *affiliate
Rating:

Heat Level:
New York Times bestselling author Jill Shalvis returns to Sunrise Cove with a beguiling, lighthearted story about fresh starts, second chances and true love.

When Harper Shaw's life falls apart, she knows it's time for a change. She removes everything that doesn't spark joy—from her soul-sucking job to eating kale to making lists—and sets off for the last place she was happy, Lake Tahoe (who wouldn't feel good there, right?) to fulfill her dream of opening her own bakery.

With her Sugar Pine Bakery in between a tavern, owned by sexy, grumpy Bodie Campbell, and a bookstore, run by her new BFF, she feels a peace she's never experienced since…well, forever.. Then she meets Ivy, a teenage runaway, who barrels into her heart. She sees a lot of herself in Ivy and takes her under her wing, but the teenager has secrets…

When those secrets explode, it changes Harper's new world, and she'll learn, it's never too late to start over, it's never too late to figure out your life, and best of all, it's never too late to let yourself believe in love.
What do you do when life sucks and you need a do-over? You pack up and move to the place where you last remember being truly happy and open a bakery. Sounds perfect, right?
Harper Shaw does just that and her first met cute with Bodie Campbell, the owner of the local tavern to the left of her bakery, was hilarious. From that moment, I was all in. Shalvis has a way of pulling me in and offering delicious, heartfelt stories with characters I want to befriend.
On the other side of her bakery, soon to be called Sugar Pine Bakery, is a bookshop owned by her new BFF. Well, it will take some delicious cookies and heart to hearts, but it's coming. Turns out Bodie and his brothers own the stripe of store fronts including the bakery, Harper will be leasing. Did I mention I love stories involving brothers? Hehe.
A runaway, grandmas and some cute critters rounded out the tale. Harper has some baggage, but so does Bodie. I loved seeing them come together and figure things out. Family, shenanigans and a dash of heat made this tale a win for me. Side romances, found family and touching nature, rounded out the tale. I cannot wait to return for more stories.
Fans of small-town romance, families and foodie novels will want to settle in with The Sweetheart List or pack it in their beach bag.

Stay Caffeinated!
Never miss a post by adding Caffeinated to your Inbox
Reading this book contributed to these challenges:
Related Posts