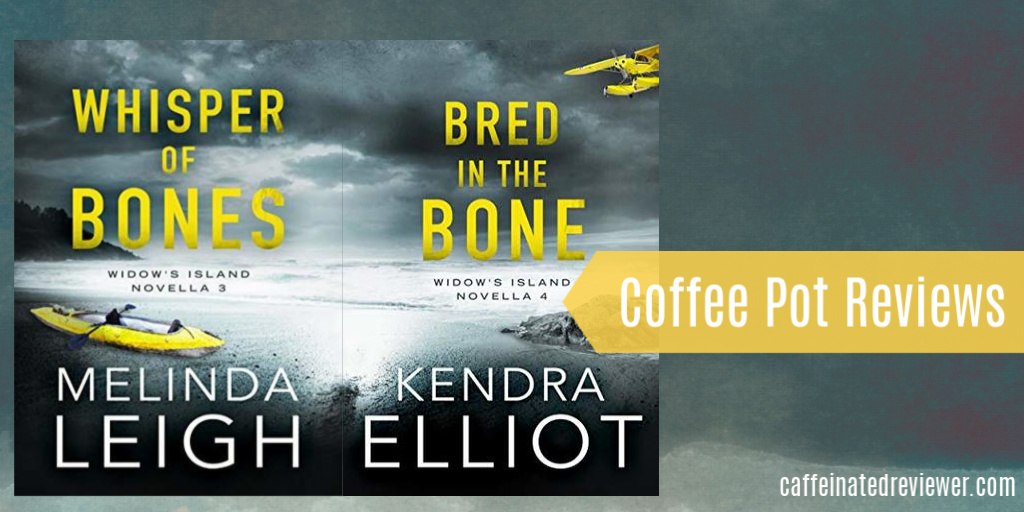 Today I am back with the next two novellas in the Widow's Island series by Melinda Leigh and Kendra Elliot. While each book contains a murder-mystery case, the romantic arc and overall cold case is best read in order of the novellas release dates. Grab a cup of coffee and check out my reviews.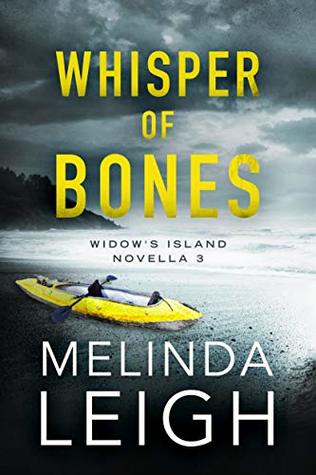 Whisper of Bones
by Melinda Leigh
Series: Widow's Island #3
Genres: Romantic Suspense
Source: Publisher
Purchase*: Amazon | Audible *affiliate
Rating:
Dark secrets from the past bob to the surface in the third novella in the Widow's Island series.

When a body washes up on the state park beach, Deputy Tessa Black's experience as a former Seattle detective tells her that the death was not an accident. All evidence points to another murder on the remote island.

The victim is a local contractor with a shockingly long list of enemies. The more locals Tessa interviews, the more people she suspects—from the bitter ex-wife and estranged current wife to disgruntled former clients and employees. They all have different reasons to want him dead.

As Tessa's investigation heats up, arson and a vicious assault convince her the killer is desperate to hide his crime—and that she'd better solve the case before he claims another victim.
Whisper of Bones by Melinda Leigh is the third novella in the Widow's Island romantic suspense series. Murder, family, a little side dish of romance and a decade old mystery keep me coming back to this remote island off the coast of Seattle.
In this installment, we are back with Deputy Tessa Black & former Army Ranger Logan Wilde. Logan is the islands new Forest Ranger. He is Tessa's boyfriend and suffers from PTSD. He is also the brother of one her dearest friends. A friend who went missing years ago. A body has turned up on one of the state park beaches and the two investigate.
I love the remote island and its unique setting. Everyone knows everyone, and the local doctor is also the coroner. Of course for big cases, they ship the body to the mainland for autopsy and often call in forensic teams from Seattle to assist.
While this novella is roughly one-hundred pages, the overall series arc and characters combined with different cases to solve give the stories plenty of meat. The romance is served as a side dish, and sexy time occurs off the page. It touches on family, friendship and addresses PTSD the nightmares that trouble Logan.
We see some development regarding Tessa and Meg's missing friend. It left me wanting more answers. There are six planned novellas for this series so I am anxious to dive into Bred in the Bones by Kendra Elliot the next book.
Whisper of Bones by Melinda Leigh delivered a murder-mystery and provided more clues to an old missing persons case. #Widow'sIsland
Click To Tweet
Bred in Bone
by Kendra Elliot
Series: Widow's Island #4
Genres: Romantic Suspense
Source: Publisher
Purchase*: Amazon *affiliate
Rating:
In the fourth Widow's Island novella by Wall Street Journal bestselling author Kendra Elliot, the truth of a twenty-year disappearance will finally come to light.

When the town drunk ends up dead in a hit-and-run, FBI special agent Cate Wilde expects that solving the case will be cut and dried. But evidence quickly surfaces that the victim was involved with another crime. A crime that has gone cold for twenty years. A crime of personal importance to Cate.

Cate's best friend, Samantha, went missing at fourteen, leaving behind nothing except a jacket and an island full of unanswered questions. Samantha's disappearance has haunted Cate for more than half her life, and she might finally be able to find some closure.

But not everything is as it seems. As Cate unravels what happened on that fateful day, she'll discover that the community of Widow's Island is full of secrets. Betrayed by someone she thought she knew, Cate will need to piece together the truth…before someone else gets hurt.
Bred in the Bones by Kendra Elliot is the fourth novella in the Widow's Island romantic suspense series and holy cow was this one intense. Big developments and plenty of twists in the case regarding their childhood friend Samantha.
I devoured this in one sitting. The story focuses on Cate, an FBI agent on leave after her partner was killed. She has been seeing our local doctor Henry and focusing on re-investigating the disappearance of their childhood friend Samantha. A hit-and-run case Tess is working soon gives them a new lead.
Had I read the synopsis I might have known we would be getting answers but I enjoyed going in cold. What a ride!
Cate is set to go back to Seattle after the holidays and I wondered how that would impact the growing relationship with Henry. I will leave you to discover that for yourselves.
Intense with twists and surprises I enjoyed Bred in Bone and look forward to reading the next two novellas Below the Bone and Broken Bone.
As of today the entire series is published and available to purchase on eBook or through Kindle Unlimited. You can also listen to them on Audible.
Bred in the Bones by Kendra Elliot is the fourth novella in the #Widow'sIsland #RomanticSuspense series. Holy cow was this one intense. #NewRelease
Click To Tweet
Reading this book contributed to these challenges:
Related Posts