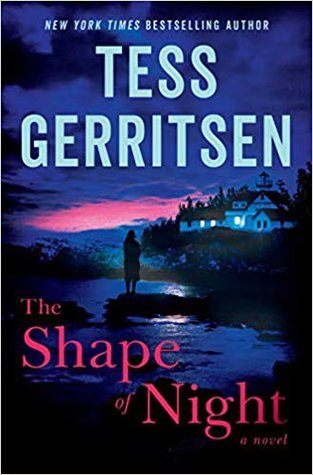 The Shape of Night
by Tess Gerritsen
Genres: Paranormal, Suspense Thriller
Source: Publisher
Purchase*: Amazon | Audible *affiliate
Rating:
A woman trying to outrun her past is drawn to a quiet coastal town in Maine--and to a string of unsolved murders--in this haunting tale of romantic suspense from New York Times bestselling author Tess Gerritsen.

Ava Collette is punishing herself for an unspeakable tragedy. So she flees Boston and rents an old home named Brodie's Watch on a remote coastal peninsula of Maine, hoping to work on a cookbook inspired by New England cuisine that she's been trying to finish for months. She immediately feels at peace in the isolated house--until she starts to hear strange noises.

Rumor has it that a sea captain named Brodie has haunted the house for decades. Then, one night, Ava is awakened to find herself face to face with an apparition who looks--and feels--all too real. Meanwhile, there's been a series of accidental deaths nearby that don't add up. And as Ava starts to check into the previous renter's mysterious disappearance, she starts to realize that there's a disturbing secret some in town are desperate to keep hidden.

Soon all of Ava's waking hours are consumed by her investigation, and her nights are ignited by Captain Brodie's ghostly visits. But even as she questions her own sanity, she knows she must uncover the truth before a killer strikes again.
Thanks to my library I discovered Tess Gerritsen's Rizzoli & Isles murder mystery thriller series long before it became a popular TV series, so I was excited to see a new title by her.
The Shape of Night delivered a suspenseful thriller with a touch of murder, a dash of romance, and a twist of the paranormal.
I've seen this classified as a paranormal romance, but I think it will disappoint those looking for the romantic aspect. Instead, go into this expecting a suspense thriller. The tale is atmospheric with paranormal elements. It comes with a nice side of dark romance.
If you are a foodie you will love all the recipe chitchat. Our protagonist, Ava Collette has fled Boston for the summer after a terrible tragedy.
The tragedy has left her plagued with unspeakable guilt and a year behind on a deadline for her cookbook. She's rented, an old captain's home named Brodie's Watch on the coastal peninsula of Maine. Here she is hoping to find inspiration to complete the cookbook inspired by New England cuisine.
When she and her Maine Coon cat arrive she immediately feels a sense of foreboding, but as soon as she enters the home that changes. The tale that unfolds delves into the homes history. As Ava explores its history she meets the locals. She learns about the mysterious deaths of several young woman and begins to wonder if the last resident met with foul play as well. Is it the house or something else at play?
This was an addictive, character driven tale that I easily devoured in a few sitting. Gerritsen has a way of pulling you in, and while I began to suspect, she kept me questioning myself until all the pieces fell into place.
The Shape of Night is the perfect mystery suspense thriller to add to your shelf this fall.
Grab a pumpkin spice latte and curl up with The Shape of Night by Tess Gerritsen #NewRelease #Thriller #Suspense #Paranormal
Click To Tweet
Reading this book contributed to these challenges:
Related Posts