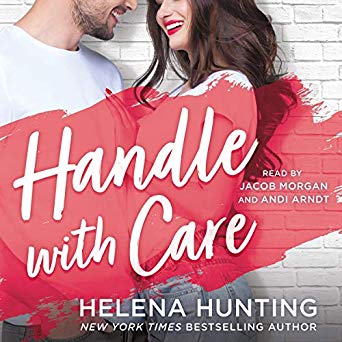 Handle with Care
by Helena Hunting
Series: Shacking Up #5
Narrator: Andi Arndt, Jacob Morgan
Genres: Contemporary Romance
Source: Publisher
Purchase*: Amazon | Audible *affiliate
Rating:

Heat Level:

Narration: 4.5 cups Speed: 1.3x

He wants to lose control

Between his parents' messed up marriage and his narcissistic younger brother, Lincoln Moorehead has spent the majority of his life avoiding his family. After the death of his father, Lincoln finds himself in the middle of the drama. To top it all off, he's been named CEO of Moorehead Media, much to his brother's chagrin. But Lincoln's bad attitude softens when he meets the no-nonsense, gorgeous woman who has been given the task of transforming him from the gruff, wilderness guy to a suave businessman.

She's trying to hold it together

Wren Sterling has been working double time to keep the indiscretions at Moorehead Media at bay, so when she's presented with a new contract, with new responsibilities and additional incentives, she agrees. Working with the reclusive oldest son of a ridiculously entitled family is worth the hassle if it means she's that much closer to pursuing her own dreams. What Wren doesn't expect is to find herself attracted to him, or for it to be mutual. And she certainly doesn't expect to fall for Lincoln. But when a shocking new Moorehead scandal comes to light, she's forced to choose between her own family and the broody, cynical CEO.
Handle with Care by Helena Hunting is the fifth novel in the Shacking Up series but these are companion stories and can be read as standalone.  Narrated by Andi Arndt and Jacob Morgan the audio delivered swoons, suspense, and loveable characters.
Lincoln Moorehead, is completely swoon-worthy ladies! He works on non-profit projects in distressed countries building homes and helping communities with resources like running water.
When his estranged father dies, he comes home and suddenly finds himself appointed CEO of Moorehead Media. Thanks to his younger brother the firm is in serious trouble, and his mother begs him to help until she can find a replacement.
This leaves him at the mercy of, Wren Sterling who has been contracted to handle the companies  PR thanks to the nightmare his brother has created. While there are sparks between Wren and Lincoln there is also snark and from the beginning, I was hooked.
This was such a fun story. First, we have Lincoln who is very low key and his family who is all DRAMA, 24-7 and then Wren who is trying to wrangle it all in. She is using this contract to springboard her PR business to the next level all while trying to ignore how impossibly good-looking and annoying Lincoln is. I mean no man can be that sincere, surly it's an act. ?
Narrated by Andi Arndt and Jacob Morgan the dual narrative was delightful. I loved getting into these characters heads. Arndt and Morgan were fantastic. They captured the playful snark, buildup and sexual tension wonderfully.
If you are looking for a fun, sexy romance with a touch of suspense and characters you'll swoon over, Handle with Care is the perfect listen!
Funny side note: I met Helena at Book Bonanza and told her how much I loved listening to this and she very politely told me it wasn't out yet. I laughed, waggled my eyebrows and said I know. She hadn't even heard it yet. I hope you loved listening as much as me Helena! ?
Reading this book contributed to these challenges:
Related Posts