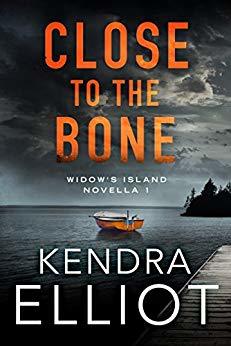 Close to the Bone
by Kendra Elliot
Series: Widow's Island #1
Genres: Mystery
Source: Publisher
Purchase*: Amazon | Audible *affiliate
Rating:
FBI Special Agent Cate Wilde is back home on a remote Pacific Northwest island when she gets the call: a teenager's skeletal remains have been found on a nearby island.

Together with Tessa Black, a childhood friend turned local deputy, Cate confronts dreary weather and bleak leads to make sense of the death. The complications pile up as Cate is distracted by the coroner on the case—and by nagging memories that draw her twenty years into the past. The remains suggest eerie similarities between this victim, and Cate and Tessa's friend Samantha, who disappeared when she was fourteen.

Cate finds herself up against closemouthed locals, buried town secrets, and even her own heart. As the case unravels, will she be able to cut through the fog and find justice for the missing and the dead
Set on Widow's Island off the Pacific Northwest. Close to the Bone by Kendra Elliot is the first of four scheduled novellas. Each book contains a murder-mystery and there is an overall arc about a missing person from twenty years ago. From the characters to the island history I quickly slipped into this series.
I've been enjoying Elliot's FBI series, Mercy Kilpatrick and was curious about her Rogue River series of novellas written with author Melinda Leigh. So when I got the chance to review this new series by them I jumped in. I am so thrilled that I did. Right now there are four books slated; Close to the Bone, A Bone to Pick, Whisper of Bones, and Bred in the Bone. They are all available in KU, Kindle, and it looks like Audible.
In Close to the Bone, FBI Special Agent Cate Wilde has returned to her childhood home to heal from a gunshot wound. With the ferry put of commission, they call Cate in to be the FBI liaison on a case. The locals have found the skeletal remains of a teenager on a nearby island. The FBI believes it might be the bones of a young girl who went missing two years ago. Cate cannot help but wonder if it might be the bones of her childhood friend who went missing. On the island she meets up with a childhood friend, Tessa Black. Tessa is now a local deputy.
I love small-town island settings. At the crime scene we meet the local doctor, Dr. Henry Powers. Powers is new to the island and imagine his surprise when he learns he is also the county coroner. I quickly slipped into the story. While this is a novella, it didn't feel rushed because there are overall series arcs and we get to know key town players. We even get hints at a romance.
What I appreciated was that they solved the current case. It wrapped up quickly but felt realistic. I loved the stories surrounding the island's name and the surrounding islands. Cate herself, or her family is part of that history. I loved the setting, but I don't think I will take my husband there to live anytime soon. You will understand when you read the book.
A great start to a promising new series, Close to the Bone is the perfect romantic suspense, mystery-thriller to dive into this fall.
A great start to a promising new series, Close to the Bone by Kendra Elliot is the perfect romantic suspense for mystery lovers to curl up with this fall. #NewRelease #KU #ebook #MustRead
Click To Tweet
Reading this book contributed to these challenges:
Related Posts