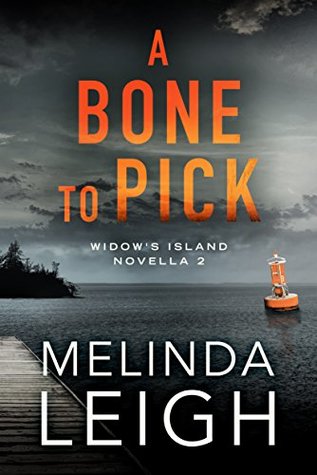 A Bone to Pick
by Melinda Leigh
Series: Widow's Island #2
Genres: Mystery, Romantic Suspense
Source: Publisher
Purchase*: Amazon *affiliate
Rating:
Deputy Tessa Black gave up her career as a detective with the Seattle PD and returned to the Pacific Northwest island she calls home to care for her ailing mother. Tessa thinks her mother's illness is the worst thing she'll face—until she responds to a routine call in the state park and discovers a local man harpooned to a sign.

As the murder investigation unfolds, it becomes clear that the victim harbored secrets. Together with her FBI agent best friend, Cate, and park ranger Logan Wilde, Tessa must connect the pieces before the murderer strikes again. But the closer she gets to the truth, the more she finds herself—and the ones she loves—in harm's way.

Pressure mounts as Tessa attempts to juggle the current case with her search for the truth behind her childhood friend Samantha's disappearance twenty years ago. Can Tessa find the murderer and uncover answers about Samantha without jeopardizing everything she holds dear?
A Bone to Pick by Melinda Leigh is the second novella in the Widow's Island mystery suspense series written with author Kendra Elliot. We are back on Widow's Island and this time the focus is on Deputy Tessa Black. When an artistic newcomer is found dead, Tessa along with the help of Park Ranger Logan Wilde search for a murderer on the island.
Once again the small Pacific Northwest island known as Widow's Island charmed me. While the first novella focused on FBI Special Agent Cate, this novel focused on Tessa Black. Tessa has recently moved back to the island from Seattle and she's been enjoying her position with the quiet island police department. She made the move to care for her ailing mother. It was a decision she hasn't regretted.
Local park ranger and the older brother of Cate, Logan Wilde is also back on the island. After a stint in the military he is enjoying the peace and tranquility of the island.
When a disturbance call regarding the sounds of a screaming man are called in Tessa investigates. The sounds appear to be coming from the park and she reaches out to Logan to act as her backup.The two soon make a grizzly discovery.
As Tessa and Logan investigate the danger heats-up right as does the chemistry between them. This was an interesting case with a few suspects and a surprising twist. Along the way we learn about Tessa, her mom, and the sexy ranger she has been crushing on since she was a teen. We briefly touch base with Cate and see other locals. I am seriously craving cinnamon buns right about now.
I now see why the Rogue novella series were so popular. This writing duo has created an interesting series I cannot wait for the next installment.  Fans of small-town romantic suspense and mystery series will want to scoop up A Bone to Pick and the other books in the Widow's Island series.
At the moment there are four books slated for this series; Close to the Bone, A Bone to Pick, Whisper of Bones, and Bred in the Bone. They are all available in KU, Kindle, and Audio.
A charming Pacific Northwest island town with a strange history, a murder-mystery and romance await you in A Bone To Pick by Melinda Leigh #KU #eBook #audio #NewRelease
Click To Tweet
Reading this book contributed to these challenges:
Stay Caffeinated!
Never miss a post by adding Caffeinated to your Inbox
Your email is not shared and you can unsubscribe at any time.
Related Posts