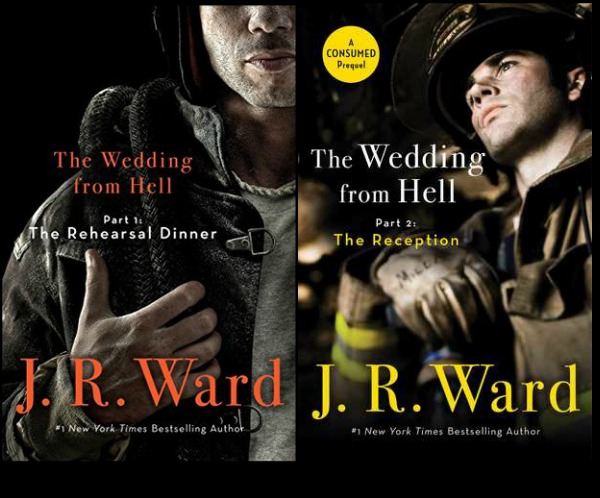 The Rehearsal Dinner and The Reception are part of The Wedding From Hell trilogy by J.R. Ward. They are FREE digital stories and prequels to Consumed, the first full-length novel in J. R. Ward's Firefighters, romantic suspense series available October 9th. I love that the author and Simon & Schuster gave us insight into these firefighters, the crew and town.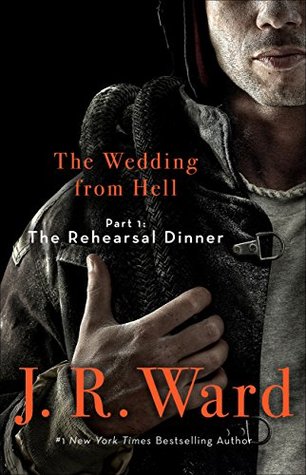 The Rehearsal Dinner
by J.R. Ward
Series: The Wedding From Hell #1, Firefighters #0.5
Genres: Contemporary Romance
Pages: 48
Source: Purchase
Purchase*: Amazon *affiliate
Rating:

Heat Level:

A brand new ebook-only story from bestselling author J. R. Ward

Are you ready for The Wedding From Hell?

Dear Reader,

It's a classic recipe for disaster: Take one bridesmaid who thinks pink is the root of all evil. Mix with a best man who's hotter than a four-alarm fire. Add in their explosive sexual attraction, a nightmare bridezilla, two catfights, and an emergency call, and you have the wedding from hell! Come get to know Anne and Danny, the hero and heroine of Consumed, and see their relationship go from friends with innuendo to holy-&*#-did-that-just-happen?! Is this the start of something good for them? Or just an erotic one-night stand that rocks them both but is never to be repeated? Only their hearts know the answer to that, much as their minds might disagree.

Happy Reading,
J.R. Ward
The Rehearsal Dinner introduces us to the men and women of the 499 firehouse in New Brunswick, Massachusetts. This is a short story that quickly introduces the crew and our heroine Anne Ashburn and hero Danny "Dannyboy" Maguire. Robert "Moose" Miller's wedding nuptials are days away and his fiance aka "bridezilla" is upset that Anne is a groomsmen. While the story is short, we gain history on Anne and Danny and bear witness to the begins of their relationship. Sizzling chemistry, denial and side glances abound. This was fun with a touch of drama as all wedding rehearsals are want to have. I had fun with this and appreciated the insight.
The Reception
by J.R. Ward
Series: The Wedding From Hell #2, Firefighters #0.6
Genres: Contemporary Romance
Pages: 39
Source: Purchase
Purchase*: Amazon *affiliate
Rating:

Heat Level:
The Wedding From Hell, Part 2: The Reception: As the wedding from hell continues, Anne and Danny find themselves walking the delicate balance between professional distance and explosive attraction. Will the desire they feel last through the night and change their lives? Or are they doomed to part after one night of passion?
The Wedding from Hell picks up the next day at the wedding where we get to see the powerful chemistry between Anne and Danny combust. I love that Ward allowed us insight into their feelings, insecurities and the impossible obstacles both face. This was short, sweet and a little sexy.  I can't wait to devour Consumed.
Consumed (Firefighters #1) is a full length romantic suspense novel featuring Anne and Danny. I cannot wait. Still not convinced this series is for you? Check out The Wedding from Hell #3 which features an exclusive excerpt of Consumed. Look for my review here at Caffeinated October 2nd.
[bctt tweet="Curious about J. R. Ward's upcoming romantic suspense Consumed (Firefighters #1)? Read the prequels for FREE The Rehearsal Dinner & The Reception " username="kimbacaffeinate"]
Related Posts