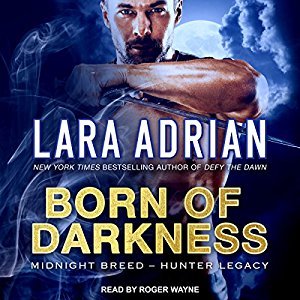 Born of Darkness
by Lara Adrian
Series: Hunter Legacy #1
Narrator: Roger Wayne
Length: 6 hours and 39 minutes
Genres: Paranormal Romance
Source: Publisher
Purchase*: Amazon | Audible *affiliate
Rating:

Heat Level:

Narration: 4.5 cups
New York Times bestselling author Lara Adrian introduces the first novel in the Hunter Legacy series, thrilling new vampire romances set in the darkly seductive Midnight Breed paranormal story world.

As a former assassin in the Hunter program, Asher is one of a small group of Gen One Breed vampires who survived the horrors of a madman's laboratory and the cruelty of the training that made him one of the most lethal beings in existence. Now, twenty years after his escape from those hellish origins, Ash is a loner whose heart is as cold as his skills are lethal. But when a beautiful, secretive young woman on the run from dangerous enemies crosses his path in the middle of a dark night in the desert outside Las Vegas, Ash is drawn into a deadly game where trust can be an illusion and love may be the sharpest weapon of all.

Book 1 in a brand-new Midnight Breed spin-off series!
Born of Darkness by Lara Adrian is the first novel in the Hunter Legacy series, set in the same world as her wildly popular Midnight Breed series. It upends a sexy, troubled vampire's life when he saves a feisty heroine from death. Now if he can just keep her that way.
Narrated by Roger Wayne, Adrian brings us stories about the lethal Breed Vampires who were given their freedom in the Midnight Breed series.
I read and loved the first Midnight Breed book and read them at the time on my Nook during my pre-blogging days. By the time I discovered there were more books in the series I was way behind. And as any reader knows, we have oodles of books and series on and in our TBR pile. So when I saw there would be a spinoff series I jumped in.
Born of Darkness introduces Asher a hunter-breed vampire that escaped in the Midnight Breed series. He found refuge on a homestead in the Mojave Desert, near to Vegas. The old man who took him in taught Asher skills and gave him a second chance at life. While his psychic gift still plagues him and he struggles to find peace he is relatively happy with his quiet existence. That is until he rescues Naomi and discovers she is a female revered by the breed community.
Naomi Fallon is a spunky, gifted young woman who grew up on the streets of Vegas after a powerful man destroyed her mother. Intent on revenge she uses her special gift by emptying his coffers one win at a time. She then uses those funds to provide shelter to the many abandoned children who sleep, in the streets, along sunset strip. Together with her best friend, Michael they provide a safe, warm place to stay. But, Naomi's latest heist finds her in the trunk of a limo and facing certain death.
I loved the intense suspense thread and romance that developed. It reminded me why I loved those first Midnight Breed books so much. Adrian brought sizzling heat and mixed in broken characters you cannot help but root for. Asher's story will tug at your heartstrings. We also got moments that made me laugh aloud and heck I even squeed a few times. The balance of dark and light worked perfectly.
Roger Wayne was a new-to-me narrator.  His pacing was good, and I liked the wide range of voices he provided. I felt like he captured Asher and Naomi's personalities and quirks.
Revenge, acceptance, second chances, loss and new beginnings made Born of Darkness an addictive beginning to the Hunter Legacy.
[bctt tweet="Born of Darkness by Lara Adrian the first novel in the new Hunter Legacy series combined romance and suspense for an addictive tale. #NewRelease #paranornal #mustread" username="kimbacaffeinate"]
Reading this book contributed to these challenges:
Related Posts