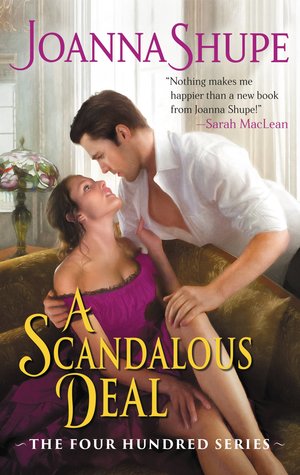 A Scandalous Deal
by Joanna Shupe
Series: The Four Hundred #2
Genres: Historical Romance
Source: Publisher
Purchase*: Amazon *affiliate
Rating:

Heat Level:

They call her Lady Unlucky…

With three dead fiancés, Lady Eva Hyde has positively no luck when it comes to love. She sets sail for New York City, determined that nothing will deter her dream of becoming an architect, certainly not an unexpected passionate shipboard encounter with a mysterious stranger. But Eva's misfortune strikes once more when she discovers the stranger who swept her off her feet is none other than her new employer.

Or is it Lady Irresistible?

Phillip Mansfield reluctantly agrees to let the fiery Lady Eva oversee his luxury hotel project while vowing to keep their relationship strictly professional. Yet Eva is more capable—and more alluring—than Phillip first thought, and he cannot keep from drawing up a plan of his own to seduce her.

When a series of onsite "accidents" makes it clear someone wants Lady Unlucky to earn her nickname, Phillip discovers he's willing to do anything to protect her—even if it requires A SCANDALOUS DEAL.
A Scandalous Deal by Joanna Shupe is the second book in the Four Hundred series set in the glittering world of New York City's Gilded Age. While this is a series, each book works entirely as a standalone. In A Scandalous Deal, Shupe gives us a feisty, modern thinking young woman and a forwarding thinking hero worthy. Sexy, relevant and low on drama A Scandalous Deal will transport you in time from the comfort of your reading chair.
Coffee Dates with A Scandalous Deal
First Date: Our story begins on a ship traveling to New York City where Lady Eva Hyde meets Phillip Mansfield. Mansfield is traveling home from Paris, and Eva is traveling to oversee the building of a hotel her father the famous E.M. Hyde designed. Only her father didn't develop it. She did. Her father has been ill for over two years with Alzheimer's a disease that wouldn't be diagnosed until 1906. On board, neither knows who the other is, as they exchange more than a few kisses. I loved the set-up and appreciated this time to get to know Eva and her predicament. Right away I liked this young woman who bears the title Lady Unlucky. Upon arriving in New York, the two never get to exchange last names despite Phillip's attempts to locate her before departing. I loved witnessing their surprised faces when Eva shows up to meet Mr. Mansfield. And I am all in! The chemistry, banter, denials, and situation quickly transported me.
Second Date: I am currently watching The Alienist on television, and it is set in 1896 New York, and while it gave me a feel for the city, fashion and Four Hundred, Shupe wonderfully brought the city, social issues, crime, politics, and rapid changes occurring to life.  Eva has shared who she is with Philip, but the two have agreed to not repeat what happened aboard ship. It was fun seeing them struggle with their attraction and the unorthodox situation of having Eva on the building site. Because her name is associated with being unlucky she is posing as Ms. Asford, Hyde's secretary. It caused quite the rumble and severed as the drama in the story. I enjoyed watching them tango. I laughed when they entered yet another arrangement. Poor Philip is flummoxed as Eva acts completely like a man at times. I adored her strength even if it all was a facade. Little side threads involving a lesbian, thugs and a renovation in Newport added interest and helped flesh out the characters. Phillip is completely swoon-worthy and with each page, and discovery, I fall a little harder.
Third Date: Secrets unveiled, betrayal and disappointments had me flipping the pages. Once again I am amazed at Eva. Yes she sort of lied, but her reasons and the time period have allowed me to completely forgive her. But will Philip? The man needs to get his head out of his arse. You'll have to read to discover if these two find happily-ever-after. I concluded my final date and once again found myself impressed with Joanne Shupe. This series is my first experience with her writing. From the historical aspects to the secondary characters I felt as if I stepped back in time and joined an exclusive circle. Anyone for some Earl Grey?
Bravo Ms. Shupe! Fans of historical fiction, romance, strong and innovated free-thinking female heroines and the men who are worthy of them will enjoy slipping into A Scandalous Deal.
[bctt tweet="Bravo Ms. Joanna Shupe! Fans of historical fiction, romance, strong and innovated free-thinking female heroines and the men who are worthy of them will enjoy slipping into A Scandalous Deal. #NewRelease #mustread #historicalromance" username="kimbacaffeinate"]
Reading this book contributed to these challenges:
Related Posts