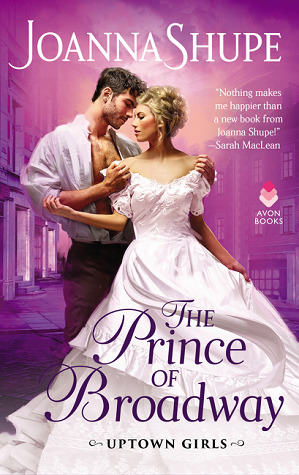 The Prince of Broadway
by Joanna Shupe
Series: Uptown Girls #2
Genres: Historical Romance
Source: Publisher
Purchase*: Amazon | Audible *affiliate
Rating:

Heat Level:
In the second novel in Joanna Shupe's the Uptown Girl series, a ruthless casino owner bent on revenge finds his plans upended by a beautiful women who proves to be more determined than he is—and too irresistible to deny.

Powerful casino owner.
Ruthless mastermind.
Destroyer of men.

He lives in the shadows...

As the owner of the city's most exclusive casino, Clayton Madden holds the fortunes of prominent families in the palms of his hands every night.
There is one particular family he burns to ruin, however, one that has escaped his grasp... until now.

She is society's darling...

Florence Greene is no one's fool. She knows Clayton Madden is using her to ruin her prestigious family... and she's using him right back. She plans to learn all she can from the mysterious casino owner—then open a casino of her own just for women.

With revenge on his mind, Clay agrees to mentor Florence. However, she soon proves more adept—and more alluring—than Clay bargained for. When his plans are threatened, Clay must decide if he is willing to gamble his empire on love.
The Prince of Broadway by Joanna Shupe is the second novel in the Uptown Girls series and shares the story of the middle daughter, Florence Greene. Blackjack, private lessons and trouble await you.
Coffee Dates with The Prince of Broadway
First Date: Clayton Madden owns the most successful casino in the city. Men Only! But a brazen young woman by the name of Florence Greene has appeared three times and even had the audacity to win! Clayton is familiar with the Greenes after dealings with the older sister and when he has had enough, he orders his man Jack to bring her up to his office. He's shocked to learn the young woman wants lessons on running a casino. Florence has plans to open her own exclusive club for women. What cheek! I liked the secondary characters, especially Jack and the brothel owner across the way. Clayton is holding a grudge so large I am surprised he can walk but he is upfront with Florence and agrees to give her lessons.
Second Date: Admittedly I struggled a little with Florence. She has her admirable qualities, but she often behaved like a spoiled child. I warmed up to her, and we saw growth in both characters. When the lessons begin, one cannot help but notice the chemistry developing and soon another bargain is struck. Holy hotness! Sharpe brought some heated scenes that will surely melt your Kindle. It was delicious until feelings, stubbornness, and misunderstandings caused some turbulence. However, bigger issues involving a cop soon have Clayton and Florence in serious trouble.
Third Date: Revenge, smart grandmothers, double-double crosses and second chances… Oh my! This last date was a whirlwind and Sharpe had me flipping the page hoping for a happy ending. You'll have to take The Prince of Broadway out on your own coffee dates to discover what happens.
The Prince of Broadway by Joanna Shupe delivered a fun romance with plenty of heat, strong secondary characters and growth from our hero and heroine. I am looking forward to finding out what trouble the youngest Greene sister gets into!
Blackjack, private lessons and trouble await you in The Prince of Broadway by Joanna Shupe #UptownGirls #NewRelease #Historical #romance
Click To Tweet
Reading this book contributed to these challenges:
Related Posts