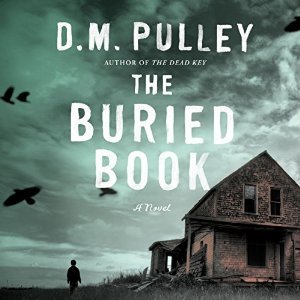 The Buried Book
by D.M. Pulley
Narrator: Luke Daniels
Length: 11 hours and 55 minutes
Genres: Historical Fiction
Source: Purchase
Purchase*: Amazon | Audible *affiliate
Rating:

Narration: 5 cups
When Althea Leary abandons her nine-year-old son, Jasper, he's left on his uncle's farm with nothing but a change of clothes and a Bible.

It's 1952, and Jasper isn't allowed to ask questions or make a fuss. He's lucky to even have a home and must keep his mouth shut and his ears open to stay in his uncle's good graces. No one knows where his mother went or whether she's coming back. Desperate to see her again, he must take matters into his own hands. From the farm, he embarks on a treacherous search that will take him to the squalid hideaways of Detroit and back again, through tawdry taverns, peep shows, and gambling houses.

As he's drawn deeper into an adult world of corruption, scandal, and murder, Jasper uncovers the shocking past still chasing his mother - and now it's chasing him too.
I first discovered The Buried Book by D.M. Pulley in my Prime Library through Amazon and earmarked it to read. In January Audible had a sale offering up all the daily deals. While browsing, I saw that Luke Daniels narrated this and one-clicked. I am so glad that I did, as The Buried Book proved to be an addictive tale. 
It's 1952 Althea Leary leaves her nine-year-old son, Jasper with her brother and disappears. Abandoned on his uncle's farm with nothing but a change of clothes and a children's bible Jasper attempts to be a good boy as his mother requested, but when weeks turn into months, he becomes desperate to find out where and what happened to his mother.
The Buried Book delivered a vivid look at 1950's farm life from the political climate, prejudice and their daily survival. Jasper begins asking questions and searching in seedy places. What he discovers shocks and confuses him. The tale is told from the perspective of a nine-year-old boy and Pulley did a great job of capturing his voice, thoughts, and tone. Through his eyes, we experience life and the frustrations he faces trying to get answers.
Pulley weaved rich details into this mystery that brought danger and suspect characters all while revealing a much more substantial corruption. I enjoyed the full mystery but appreciated how he allowed the reader/listener to experience farm life from milking to social ladders. The author has a smooth, soothing writing style that quickly pulled me in and allowed me to connect. The story ebbed and flowed between climatic discoveries, danger and the mundane.
The mystery was intense as it weaved in a thread of the past, influential players, law enforcement and the frustrations of adults not thinking a nine-year needs to hear details but Jasper is persistent. Jasper soon finds himself in danger, but stays the course and refuses to give up on his mother. We see him grow from a young child into a confident boy. Farm life toughens him up. Even I squirmed over some of the realities of farm life. It is so much easier to savor a steak when you are blissfully unaware of the details that brought it to your plate.
Luke Daniels has quickly become a favorite narrator. From unique voices to tone he enhanced the tale. His voice for Jasper felt genuine, and I was impressed with his pronunciation of Indian words and phrases.
Fans of historical fiction and mysteries will enjoy The Buried Book. It reminded me of To Kill A Mockingbird and the writings of Diane Chamberlain and Rachel Caine.
[bctt tweet="Narrated by Luke Daniels, The Buried Book by D.M. Pulley proved to be an addictive mystery and murder. #loveaudiobooks #mystery " username="kimbacaffeinate"]
Reading this book contributed to these challenges:
Related Posts