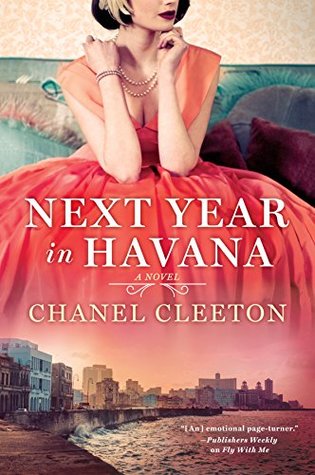 Next Year in Havana
by Chanel Cleeton
Genres: Historical Fiction
Source: Publisher
Purchase*: Amazon *affiliate
Rating:
After the death of her beloved grandmother, a Cuban-American woman travels to Havana, where she discovers the roots of her identity--and unearths a family secret hidden since the revolution...

Havana, 1958. The daughter of a sugar baron, nineteen-year-old Elisa Perez is part of Cuba's high society, where she is largely sheltered from the country's growing political unrest--until she embarks on a clandestine affair with a passionate revolutionary...

Miami, 2017. Freelance writer Marisol Ferrera grew up hearing romantic stories of Cuba from her late grandmother Elisa, who was forced to flee with her family during the revolution. Elisa's last wish was for Marisol to scatter her ashes in the country of her birth.

Arriving in Havana, Marisol comes face-to-face with the contrast of Cuba's tropical, timeless beauty and its perilous political climate. When more family history comes to light and Marisol finds herself attracted to a man with secrets of his own, she'll need the lessons of her grandmother's past to help her understand the true meaning of courage.
Next Year in Havana by Chanel Cleeton is quite the departure from Cleeton's contemporary romance series, but she delivered a rich, detailed historical fiction with an air of mystery and a look into Cuba's history, culture, and people.
I adored Cleeton's Wild Aces series, and have dabbled in a few of her other romances but was curious to read Next Year in Havana when Cleeton announced this was her passion and what she intends to continue writing. She paints a rich tapestry as she shares the story of a young woman fulfilling her deceased grandmother's wishes of scattering her ashes in her ancestral home of Cuba.
Told from multiple perspectives the story alternates between present day and those of Havana, 1958 before Fidel Castro took power.
Havana, 1958. Elisa Perez is the privileged daughter of a sugar baron. Cuba is on the cusp of great change as revolutionaries rebel against Batista under the leadership of a young Castro. Eliza is nineteen years old when she meets Pablo at a party. The two share a secret romance. Pablo is one of Castro's men, and Eliza's father aligns himself with Batista. Cleeton brought their romance, the climate and strain of the times to life over the course of a year.
Present day. Marisol is the young granddaughter of Elisa Perez and arrives in present-day Cuba with her grandmother's ashes. She stays in the home of Rose, Elisa's childhood friend. Rose gives Marisol a box that her grandmother buried in her backyard before fleeing Cuba. Inside she discovers love letters from an unknown man. Together with Rose's son, Luis, she looks for answers.
The story shares two romances, but don't expect happily ever after(s). Next Year in Havana is a beautiful, poignant story that allows the reader to see, breath and experience Cuba both past and present. It shares the story of a proud people who have suffered, survived and most of all loved their native land. Like most Americans, I have a textbook knowledge of the history of Cuba and its political history with the United States. Having lived in Florida, I know how strong the Cuban communities are, heard stores daily of attempts made to flee Cuba by vessel and reach Florida's coastal shores, and the painful stories of families separated, so I appreciated Cleeton's story.
Both Elisa and Marisol are proud, strong Cuban women and their voices and actions felt genuine. I wept for Elisa, admired how she moved forward and was happy with the way her story ended. Marisol's story was satisfying as she sought answered. Those answers will take her on a new journey.  Her story/romance had an open ending that left me filled with hope.
Fans of historical fiction will be transported to Cuba in this bittersweet tale of family, love, loss and the beautiful country that runs through their veins. The next book will feature Elisa's sister.
A bittersweet tale of family, love, loss and the beautiful country that runs through their veins. Fans of historical fiction will be transported to Cuba in Next Year in Havana by Chanel Cleeton.
Click To Tweet
Reading this book contributed to these challenges:
Related Posts