It's time for another edition of Nonna's Corner where I share children's books I have read with my grandchildren affectionately known as the "Royals." Today I have one that the Princess particularly enjoyed, Grandma's Purse by Vanessa Brantley-Newton. Grab a cup of coffee and enjoy this delightful tale.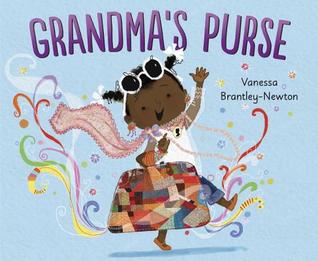 Grandma's Purse
by Vanessa Brantley-Newton
Genres: Childrens
Pages: 32
Source: Publisher
Purchase*: Amazon *affiliate
Rating:
Spend the day with Mimi and her granddaughter in this charming picture book about the magic found in Mimi's favorite accessory, perfect for readers who love How to Babysit a Grandma!

When Grandma Mimi comes to visit, she always brings warm hugs, sweet treats...and her purse. You never know what she'll have in there--fancy jewelry, tokens from around the world, or something special just for her granddaughter. It might look like a normal bag from the outside, but Mimi and her granddaughter know that it's pure magic!

In this adorable, energetic ode to visits from grandma, beloved picture book creator Vanessa Brantley Newton shows how an ordinary day can become extraordinary.
There is just something magical about a grandmother's handbag and Vanessa Brantley-Newton delightfully explores that magic in Grandma's Purse. Vivid colorful illustrations share the story of a little girl and her Grandma "Mimi" exploring the contents of her purse. From candy to hairpins the tale made Princess Sophia smile. I loved how it captured the bond between grandchild and grandmother while they sorted and played. Since acquiring the book, we have read it several times and I love that the illustrations help Sophia read the book to me. Of course, she asked Nonna to buy her a purse just like the one in the book. She knows exactly what she will put in it.
Age Range: 3 – 5 years
Grade Level: Preschool – Kindergarten
[bctt tweet="Grandma's Purse by Vanessa Brantley-Newton is a delightful picture book that explores the magic between a child and their grandmother. #childrens #books" username="kimbacaffeinate"]
Related Posts