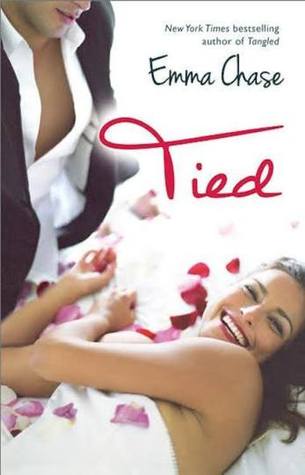 Tied
by Emma Chase
Series: Tangled #4
Genres: Contemporary Romance
Source: Publisher
Purchase*: Amazon *affiliate
Rating:
In the fourth sexy romance by the New York Times bestselling author of Tangled and Twisted, Drew and Kate can't wait to tie the knot—if they can survive the pre-wedding festivities. For most of my life, I never imagined I'd get married. But Kate did the impossible: she changed me. I think we can all agree I was pretty frigging awesome before, but now I'm even better. The road to this day wasn't all rainbows and boners. There were mistakes and misunderstandings worthy of a Greek tragedy. But Kate and I made it through with our inexhaustible lust, boundless admiration, and everlasting love for one another intact. That being said, there were some unexpected incidents in Vegas last weekend that could have been a problem. It was kind of... my final test. I know what you're thinking—what the hell did you do this time? Relax. Let's not judge, or call for my castration, until you've heard the whole story. And hold on tight, because you're in for a wild ride. Did you expect anything less?
I absolutely enjoyed Kate and Drew's journey from the hilarious first book Tangled to Tied when we finally get our happily ever after. In typical Drew Evans' fashion, the road is bumpy, sexy and hilariously complicated in Tied by Emma Chase, book four in the Tangled series. We get some heat, and no lie my nook began to overheat. Oh-la-la.
Caffeinated's Coffee Dates with Tied
First Date: Drew and Evan are finally tying the knot in Tied. Woot! Chase catches us up on what we have missed, and we get to know James their adorable son and catch up with the rest of the gang. Tied is relayed to us from Drew's perspective and once again the man charmed me, made me swoon and had me giggling.
Second date: We are going to Vegas baby! A bachelor party and bachelorette party have been planned and I was happy to tag along. Of course, Drew has to make sure they do it in style, and all the gang is present. Dee-Dee is in charge of the girls' night out, and Matthew is handling the deets for Drew's party. I was laughed, shaking my head and giggling over their antics. I've decided the next time I go; I want Dee-Dee in charge. Of course, things do not go smoothly, and it was just the perfect touch of angst, lessons and heart.
Third Date: Here comes the bride…. Chase gives us all of the details from the church to the reception, and it was positively delightful. I laughed, swooned and sighed. We get some updates on the gang, and I loved the updates on Mackenzie. Chase worked to satisfy her fans about the wedding and honeymoon. I adore Drew Evans, and if Kate weren't so perfect for him, I would be truly jealous. I am delightful dizzy and closed this book with a content smile and a box of truffles.
If you haven't met Drew Evans yet, you need to read the Tangled series, the ride was pure perfection from the characters to the incredible heat and humor. Tied was the perfect conclusion for one of my favorite couples.
Related Posts